--- May 5-6, 2007 ---
14th Show of 2007
Falcon Communications Thunder Nationals Old Dominion Speedway Manassas, Virginia

For more pictures, check out those taken by Bill Gercken



Both of the trucks did a good job during the show. Saturday night, Jim won the freestyle competition

During the show sunday, Chris did an awesome donut. There was dust and mud everywhere!

He did some wild jumps and wicked skywheelies

and he got some big air off the busses and about cleared the motor home just ripping it in half...

Saturday night was a rought night for Brutus. Two crashes and the Brutus body was really destroyed! We tried to fix it for the other show on sunday, but still Brutus lost many panels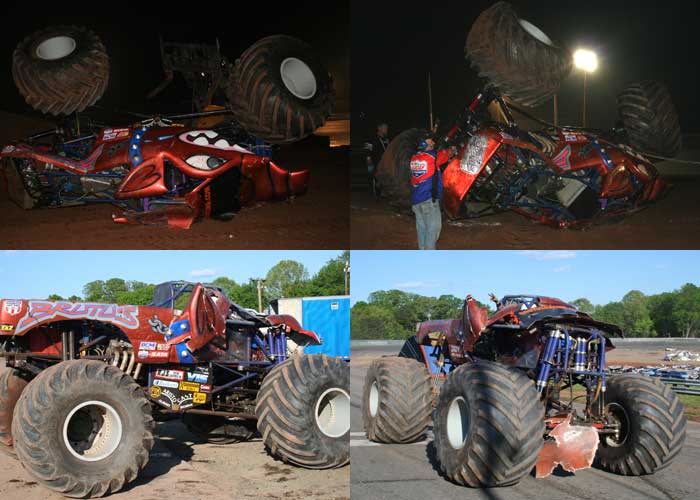 Sunday, during the show, Jim freestyled a yellow minni van. He cleared the 6 car racing lanes and drove over the buses, just to get the crowed on there feet!

Other trucks at the show were
Black Stallion, Iron Warrior and Ragin' Rebel

Screamin Demon, Hot Tamale and Equalizer

Project X and the jet powered 4 wheeler driven by Michael Vaters and Black jack, for the monster truck rides

Obstacles before... and after the destruction!!!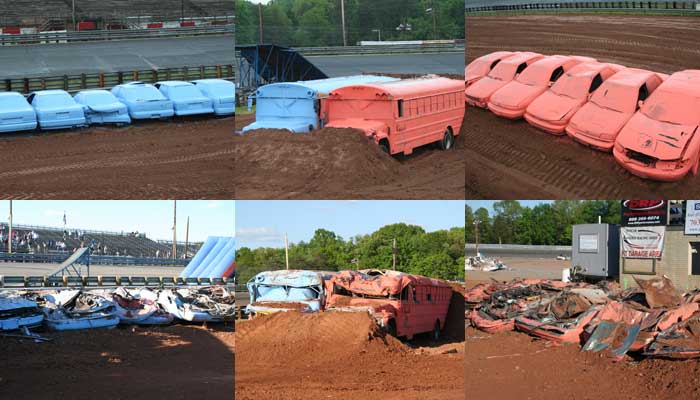 Mike Vaters JR and his crew did awesome jumps during the freestyle motocross

<! ---links --->
You can also check out these Monster Truck sites for all the latest news
USHRA
,
Monster-Style
,
MichiganMonsterTrucks
,
All Monster
, and
The Monster Blog
And donít forget about the good old Television.
--
SPEED CHANNEL
hosts Monster Jam twice weekly, featuring all the USHRAĎs top stars including Avenger and Brutus.--
--
National Geographic Channelís
THRILL ZONE did a special called Monster Truck Tech a detailed look at monster trucks including interviews with Jim and some of his Crazy Freestyle from the Vermont 4x4 Jamborees.--
--
Spike TVís
Xtreme 4x4 caught a Wicked Crash by the Avenger at the Indy 4x4 Jamboree.--
--
ESPN 2
also had there cameras at the Jamborees.--
SO STAY TUNED AND STAY WILLLLLLDDDDDD!!!!