--- May 12, 2007 ---
15th Show of 2007
Monster Spectacular Pepsi Coliseum Quebec City, Quebec

For more info about the Monster Spectacular, click here


At the pit party before the show Chris Arel interviewed Jim and Chris, and found out why they are called Team Scream.

The Quebec fans are some of the wildest in all of Canada. There energy got Avenger and Brutus pumped to rock Quebec City.

There were some close races with such a short track.


In the wheelie contest, Jim rocked! He stood it up on the bumper and road it out across the cars, and in freestyle, he ripped off a wild cyclone that made Quebec go crazy...

Brutus had a perfect skywheelie off the car and straight up and down.

Other trucks at the show were
Iron Outlaw (Linsey Weenk) and Weapon one (Trey Meyers)

Black Stallion (Mike Vaters) and Bounty Hunter (Jim Creten)
After the show all the drivers brought their trucks back out on to the track for a VIP autograph session

Mike Vaters JR and the guys from
FMX EAST Freestyle motocross team
did crazy tricks during the freestyle motocross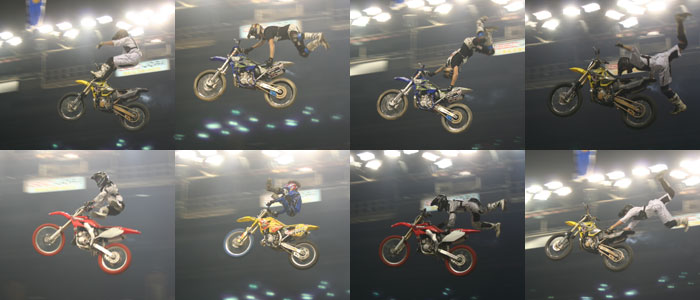 <! ---links --->
You can also check out these Monster Truck sites for all the latest news
USHRA
,
Monster-Style
,
MichiganMonsterTrucks
,
All Monster
, and
The Monster Blog
And donít forget about the good old Television.
--
SPEED CHANNEL
hosts Monster Jam twice weekly, featuring all the USHRAĎs top stars including Avenger and Brutus.--
--
National Geographic Channelís
THRILL ZONE did a special called Monster Truck Tech a detailed look at monster trucks including interviews with Jim and some of his Crazy Freestyle from the Vermont 4x4 Jamborees.--
--
Spike TVís
Xtreme 4x4 caught a Wicked Crash by the Avenger at the Indy 4x4 Jamboree.--
--
ESPN 2
also had there cameras at the Jamborees.--
SO STAY TUNED AND STAY WILLLLLLDDDDDD!!!!