Friday night the local radio station 104.5 WFMB Continuous Country held a private house party with the Avenger on display. Time for autographs and pictures!

It rained like crazy before the show saturday so the track was a muddy mess.

Avenger did some wilds jumps even with the track so slippery.

Jim did crazy donuts too, mud was everywhere and the crowd loved it.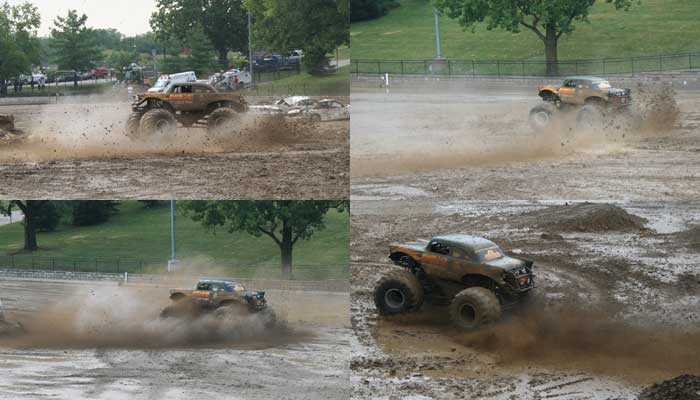 Sunday, to get the crowd crazy, Jim went in the mud pit. The truck almost disappeared because it was so deep!

After the show, the crews spent hours cleaning every truck... and the staff too!

Saturday and sunday, drivers did autographs sessions at the t-shirt stand.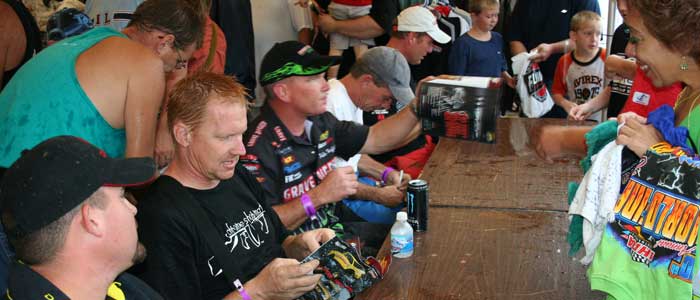 Others truck at the show were
Raminator and Rammunition

Grave Digger and Big Foot

Like Avenger did, Grave Digger and Raminator did wicked donuts. With all the mud, it was crazy!

<! ---links --->
You can also check out these Monster Truck sites for all the latest news
USHRA
,
Monster-Style
,
MichiganMonsterTrucks
,
All Monster
, and
The Monster Blog
And donít forget about the good old Television.
--
SPEED CHANNEL
hosts Monster Jam twice weekly, featuring all the USHRAĎs top stars including Avenger and Brutus.--
--
National Geographic Channelís
THRILL ZONE did a special called Monster Truck Tech a detailed look at monster trucks including interviews with Jim and some of his Crazy Freestyle from the Vermont 4x4 Jamborees.--
--
Spike TVís
Xtreme 4x4 caught a Wicked Crash by the Avenger at the Indy 4x4 Jamboree.--
--
ESPN 2
also had there cameras at the Jamborees.--
SO STAY TUNED AND STAY WILLLLLLDDDDDD!!!!