Spike and Avenger were both at the show last weekend. Jim Koehler was behind Avenger's wheel and Steve Koehler drove Spike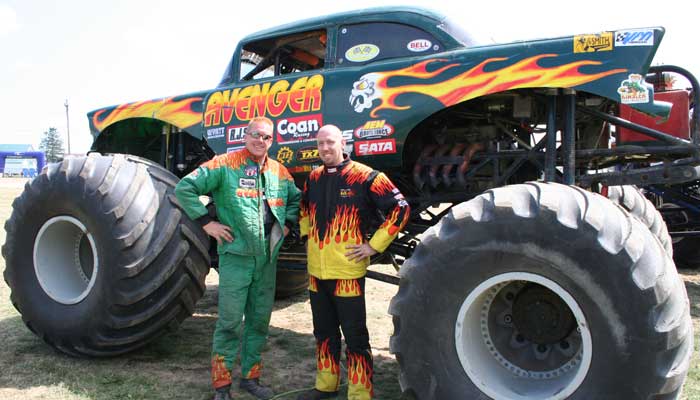 Steve and Jim did crazy interviews during the pit party

The crowd was happy to get autographs and pictures at the pit party
Most races were really close

During the freestyle, Avenger did a great wheelie!

He did nice jumps an big air over he bus!

Steve did a great job during freestyle too and after a big air over the bus stack, he rolled over. One of the front wheel came off and Spike got severe body dammages!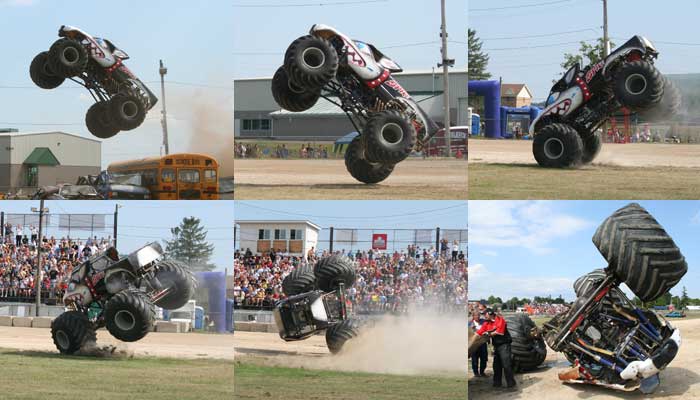 Before the crash, he did crazy jumps


Besides Avenger and Spike, the line up at this show was...
Prowler (Lenny Kuilder), Predator (Larry Jaruzel) and Sudden Impact the ride truck

And there was Big Foot (Rick Long). He gave a great show dring all the weekend!

Guys from
FMX EAST Freestyle motocross team
did crazy tricks during the freestyle motocross

<! ---links --->
You can also check out these Monster Truck sites for all the latest news
USHRA
,
Monster-Style
,
MichiganMonsterTrucks
,
All Monster
, and
The Monster Blog
And donít forget about the good old Television.
--
SPEED CHANNEL
hosts Monster Jam twice weekly, featuring all the USHRAĎs top stars including Avenger and Brutus.--
--
National Geographic Channelís
THRILL ZONE did a special called Monster Truck Tech a detailed look at monster trucks including interviews with Jim and some of his Crazy Freestyle from the Vermont 4x4 Jamborees.--
--
Spike TVís
Xtreme 4x4 caught a Wicked Crash by the Avenger at the Indy 4x4 Jamboree.--
--
ESPN 2
also had there cameras at the Jamborees.--
SO STAY TUNED AND STAY WILLLLLLDDDDDD!!!!