Avenger and Brutus were ready for the show in Texas. Sponsors
Green Grease
and
TX7
were at the show. Both trucks ran TX7 flags to show there support.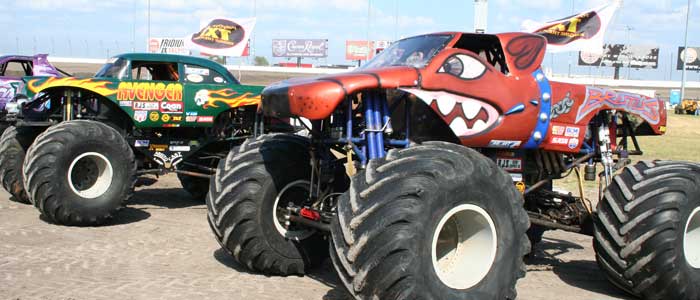 Both nights, pit party were really nice and people were happy to meet drivers!

The racing lanes were long, with car stack right at the starting gates on the back straight away, a roller just before the turn and 2 wild dirt jumps in the center of the track. Another turn on to the front straight and a another car stack at the finish line. A crazy bus pyramid was set up for the freestyle saturday night.

In racing, when Brutus raced Madusa, he rolled over. There was some body damage but nothing major. He would go on to rock in freestlye.

Avenger did awesome winning freestyle. After the 90 seconds was up, Jim was still going putting on a show for the fans. He had a crazy jump over the bus with hard landing that ripped the rear end out of the truck ending his run.

Other trucks at the show were War Wizard, Mopar Magic, Stone crusher

Big Foot (Madusa), King Krunch, Nitemare

El Matador, Sudden Impact, T-Maxx and Big Foot
<! ---links --->
You can also check out these Monster Truck sites for all the latest news
USHRA
,
Monster-Style
,
MichiganMonsterTrucks
,
All Monster
, and
The Monster Blog
And donít forget about the good old Television.
--
SPEED CHANNEL
hosts Monster Jam twice weekly, featuring all the USHRAĎs top stars including Avenger and Brutus.--
--
National Geographic Channelís
THRILL ZONE did a special called Monster Truck Tech a detailed look at monster trucks including interviews with Jim and some of his Crazy Freestyle from the Vermont 4x4 Jamborees.--
--
Spike TVís
Xtreme 4x4 caught a Wicked Crash by the Avenger at the Indy 4x4 Jamboree.--
--
ESPN 2
also had there cameras at the Jamborees.--
SO STAY TUNED AND STAY WILLLLLLDDDDDD!!!!