--- November 3rd, 2007 ---
34th Show of 2007
Monster Spectacular Olympic Stadium Montreal, Canada
Click here for Details


Avenger and Brutus were back in Montreal to show to the fans in Quebec that they are crazier and wilder than ever!

Chris Arel Motorsports had Avenger as the head liner, putting the truck on all the flyers and on two Hummer, to promote the event at the Olympic Stadium.

Like every time in Montreal, the fans were so excited to meet the drivers and ask for autographs and pictures

The track was wild with some buses pyramids

Chris did a really good job in freestyle. He finished third.

Jim was awesome and did some crazy wheelies, a donut and some good jumps. He finished second.

Both truck gave a incredible show!

Chris almost rolled over, but he saved it and got the crowd crazy!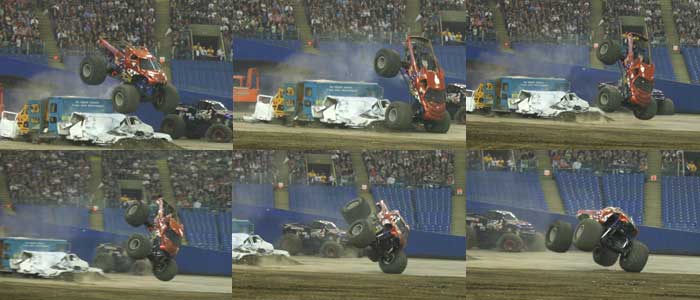 Other trucks at the show were Big Foot, Jurassic Attack, American Guardian,

Weapon One, Dominator, Geter Done,

Godzilla, Maniac and Anger Managment

Black Stallion was also there. With a good freestyle and a spectacular crash, he won freestyle.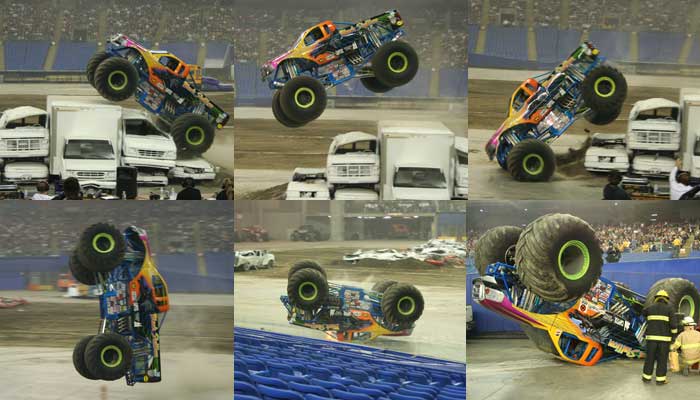 <! ---links --->
You can also check out these Monster Truck sites for all the latest news
USHRA
,
Monster-Style
,
MichiganMonsterTrucks
,
All Monster
, and
The Monster Blog
And donít forget about the good old Television.
--
SPEED CHANNEL
hosts Monster Jam twice weekly, featuring all the USHRAĎs top stars including Avenger and Brutus.--
--
National Geographic Channelís
THRILL ZONE did a special called Monster Truck Tech a detailed look at monster trucks including interviews with Jim and some of his Crazy Freestyle from the Vermont 4x4 Jamborees.--
--
Spike TVís
Xtreme 4x4 caught a Wicked Crash by the Avenger at the Indy 4x4 Jamboree.--
--
ESPN 2
also had there cameras at the Jamborees.--
SO STAY TUNED AND STAY WILLLLLLDDDDDD!!!!