--- December 8th, 2007 ---
36th Show of 2007
Extreme Monster Truck Nationals The Palace of Auburn HillsAuburn Hills, Michigan
For more info, click here


All the trucks were ready for the pit party

Rich Hilgendorf was driving Spike, Jim Koehler was driving Wrecking Crew and Steve Koehler drove Mike Hawkins' Hot Tamale

Drivers signed lots of autographs and took pictures with fans

Jim and Rich gave interviews for the Detroit News and Michigan Monster Truck

Two cars stacks were there for the wheelie contest and the motocross landing ramp became a dirt jump for freestyle

Spike won the wheelie contest in the first show and Wrecking Crew won in the second show. Both trucks did really good.


In freestyle and during the donut contest, Jim and Rich gave everything they had and they did awesome donuts.


Jim had some big air and nice wheelies during freestyle, but after a hard landing, he rolled over bending a rim and causing some body dammages


Steve in Hot Tamale did also really good during both shows with big air and a nice donut.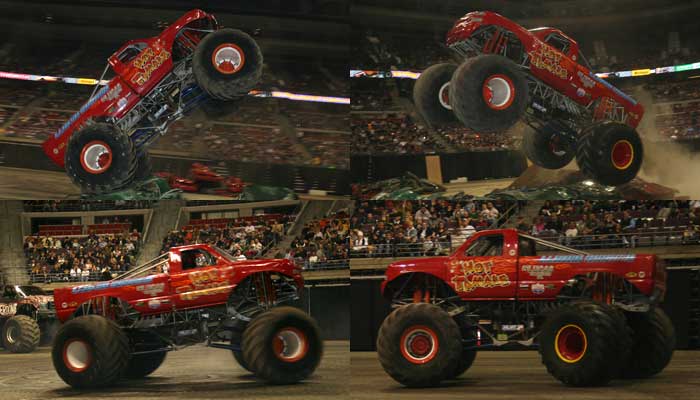 Raminator and Geter Done were also at the show
With the new Ghost Rider and Equalizer

<! ---links --->
You can also check out these Monster Truck sites for all the latest news
USHRA
,
Monster-Style
,
MichiganMonsterTrucks
,
All Monster
, and
The Monster Blog
And donít forget about the good old Television.
--
SPEED CHANNEL
hosts Monster Jam twice weekly, featuring all the USHRAĎs top stars including Avenger and Brutus.--
--
National Geographic Channelís
THRILL ZONE did a special called Monster Truck Tech a detailed look at monster trucks including interviews with Jim and some of his Crazy Freestyle from the Vermont 4x4 Jamborees.--
--
Spike TVís
Xtreme 4x4 caught a Wicked Crash by the Avenger at the Indy 4x4 Jamboree.--
--
ESPN 2
also had there cameras at the Jamborees.--
SO STAY TUNED AND STAY WILLLLLLDDDDDD!!!!