--- January 11-12th, 2008 ---
2nd Show of 2008
Monster Jam at the Greensboro Coliseum Greesboro, North Carolina
Click here for Details


There were two cars stacks for raceing and the wheelie contest and in the middle, a huge dirt ramp for the freestyle motocross. The Monster Trucks used the ramp during freestyle.

A lot of fans came to the pit party for pictures and autographs

Avenger abnd Brutus did pretty well all along the weekend

During races, both trucks did good. Jim made it to the finals at the show saturday

The wheelie contest went good for both trucks. Brutus won friday night


For freestyle, Avenger and Brutus had big air on the dirt ramp


As usual, Chris and Jim gave a really good show for the fans in freestyle.

Jim almost rolled over, but he saved it!

Sudden Impact, Grave Digger and El Matador were also at the show

With King Krunch. Monster Mutt and T-Maxx

Finally, Mike Vaters jr, Trevor Vines and Justin Stoltzfus were there to do crazy tricks during the freestyle motocross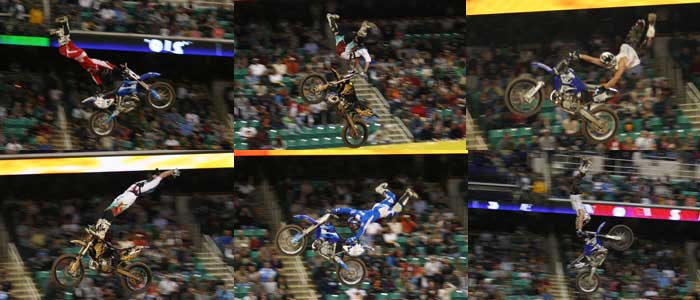 <! ---links --->
You can also check out these Monster Truck sites for all the latest news
USHRA
,
Monster-Style
,
MichiganMonsterTrucks
,
All Monster
, and
The Monster Blog
And donít forget about the good old Television.
--
SPEED CHANNEL
hosts Monster Jam twice weekly, featuring all the USHRAĎs top stars including Avenger and Brutus.--
--
National Geographic Channelís
THRILL ZONE did a special called Monster Truck Tech a detailed look at monster trucks including interviews with Jim and some of his Crazy Freestyle from the Vermont 4x4 Jamborees.--
--
Spike TVís
Xtreme 4x4 caught a Wicked Crash by the Avenger at the Indy 4x4 Jamboree.--
--
ESPN 2
also had there cameras at the Jamborees.--
SO STAY TUNED AND STAY WILLLLLLDDDDDD!!!!