--- March 28-29 2008 ---
11th Show of 2008
Monster Jam World Finals at the Sam Boyd Stadium Las Vegas, Nevada
Click here for Details


Wednesday, trucks and drivers were ready for the Monster Jam World Finals group photo. Avenger was proud to show off its new Vegas color, The
Auto Air Colors
Fluorescent Hot Green.

Friday was the Double Down Pit Party. Jim signed autographs and took a ton of pictures. For that occasion, Wrecking Crew was also on display and Steve was there for the fans.

Friday night was the qualifying, where all the bodies are off the trucks, to make sure that if a crash occurs, the body won't be ruined for the Saturday show.

Both Wrecking Crew and Avenger were spick-and-span for the pit party saturday

Jim and Steve signed a lot of autographs.
"Jim Koehler for President"

Before the show, nothing like a little nap...

Avenger won the first round of racing against Pastrana 199, but was defeated by Captains Curse in the round 2
After defeating Taz and Air Force, Batman won the races championship against Captains Curse and became, for the second year in a row, the Monster Jam World Finals Racing Champion

During freestyle, Jim started wild with big air

Unfortunatly, early in its freestyle, Avenger lost a wheel. However, he kept going ripping off a wicked donut again and again, for the crowd's pleasure. He had the truck spinning so fast it finally stopped its donut when the truck was up side down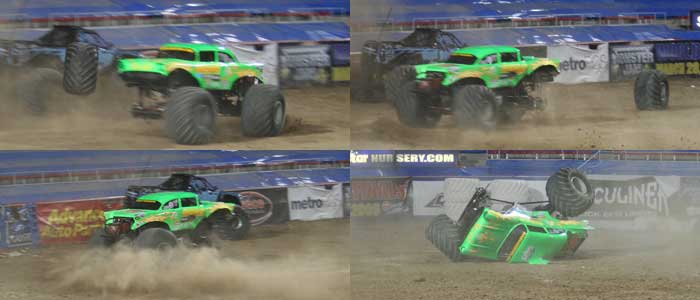 Once Jim got out of Avenger, he put a mask and snorkle on, that a fan gave him durring the pit party. The crowd was getting louder and louder as he was getting close to the water fall. They went crazy when he jumped in.

Thanks for all the fans who came to support us!

The truck was pretty damaged after the show

After a really nice freestyle, Taz, driven by Adam Anderson, became the Monster Jam World Finals Freestyle Champion

Besides Avenger and Taz, the 22 other trucks at the show were:
Scarlet Bandit, Monster Mutt Damlatian, Blue Thunder, Grave Digger, Captains Curse, El Toro Loco, Monster Mutt, Donkey Kong, Black Stallion, Stone Crusher, Safe Auto Minimizer, Team Suzuki, Pastrana 199, Escalade, Air Force Afterburner, Batman, King Krunch, Bounty Hunter, Superman, Maximum Destruction, Destroyer and Iron Outlaw
Here are some of the best pictures we have of the 2008 World Finals Freestyle competition









<! ---links --->
You can also check out these Monster Truck sites for all the latest news
USHRA
,
Monster-Style
,
MichiganMonsterTrucks
,
All Monster
, and
The Monster Blog
And donít forget about the good old Television.
--
SPEED CHANNEL
hosts Monster Jam twice weekly, featuring all the USHRAĎs top stars including Avenger and Brutus.--
--
National Geographic Channelís
THRILL ZONE did a special called Monster Truck Tech a detailed look at monster trucks including interviews with Jim and some of his Crazy Freestyle from the Vermont 4x4 Jamborees.--
--
Spike TVís
Xtreme 4x4 caught a Wicked Crash by the Avenger at the Indy 4x4 Jamboree.--
--
ESPN 2
also had there cameras at the Jamborees.--
SO STAY TUNED AND STAY WILLLLLLDDDDDD!!!!