--- May 16-18 2008 ---
16th Show of 2008
4-Wheel Jamboree Nationals at the Allen County Fairgrounds Lima, Ohio
Click here for Details


Jim and Chris were ready for the weekend in Ohio, with 5 shows on the schedule

The stands were packed for every show.

Racing was fast and wild, with a roller at the start line then a dip about half track with a ramp coming out of it.


Avenger did really good in freestyle friday night, getting big air and doing some nice sky wheelies
They limited how many trucks would freestyle during every show, so Chris did not freestyle on friday night.


During racing Saturday (first show) Spike had a wild out of control landing after the finish line where he almost crashed, but Chris saved it!

Chris really "unleashed" Spike for freestyle and was all over the track, getting big air


Avenger also had a sweet run Saturday.


In racing saturday afternoon (second show), Jim and Chris did good, beating Monster Mutt and Big Foot.

During freestyle, Jim did a crazy donut and the mud was flying all over the place!

During the third show saturday, Spike did an awesome cyclone as well.

Jim ended the last freestyle on Saturday night with a spectacular crash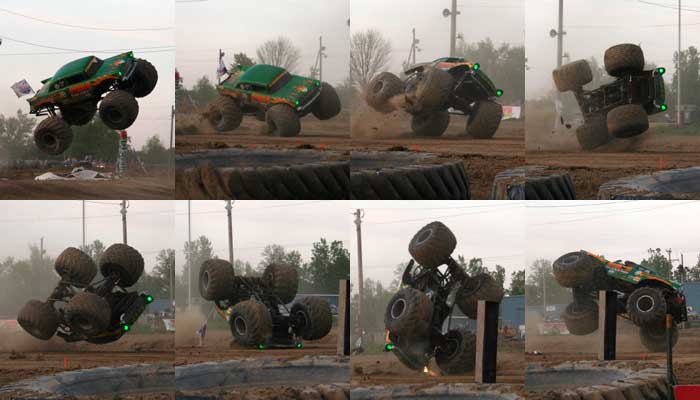 On the first picture, you can see a shot taken by a camera fixed on the truck by Elliott Millet, from
Michigan Monster Trucks
,while the truck was rolling over. On the other pictures, you can see the damages caused by the crash

Sunday, both Spike and Avenger gave a good show


Besides Spike and Avenger, the other trucks at the show were Raminator, Rammunition, Tail Gator, Big Foot, Monster Mutt, Batman and Big Dawg
Sergeant Smash was also there for monster truck rides.





To see more pictures and videos of the event, take a look of the
Monster truck thunder drags gallery!

<! ---links --->
You can also check out these Monster Truck sites for all the latest news
USHRA
,
Monster-Style
,
MichiganMonsterTrucks
,
All Monster
, and
The Monster Blog
And donít forget about the good old Television.
--
SPEED CHANNEL
hosts Monster Jam twice weekly, featuring all the USHRAĎs top stars including Avenger and Brutus.--
--
National Geographic Channelís
THRILL ZONE did a special called Monster Truck Tech a detailed look at monster trucks including interviews with Jim and some of his Crazy Freestyle from the Vermont 4x4 Jamborees.--
--
Spike TVís
Xtreme 4x4 caught a Wicked Crash by the Avenger at the Indy 4x4 Jamboree.--
--
ESPN 2
also had there cameras at the Jamborees.--
SO STAY TUNED AND STAY WILLLLLLDDDDDD!!!!