Both trucks were on display at different hotels on Friday

Rich and Jim were at the pit party all night Friday signing autographs and taking pictures for the fans! And once again, the "Giant Man" was there too!

Like every year, the crowd was on fire!

All weekend, both trucks did really good in racing, making it to the semi-final and final

During freestyle, Jim did a really nice donut, projecting sand all over the place.

During racing, Rich in Brutus landed side ways, which brought the truck in a unintended wheelie. The crowd was on their feet! (Check out our
Videos
section to see it "live"!)

Both trucks had awesome freestyles throughough the weekend.





Sunday, for its last freestyle of the weekend, Brutus jumped the cars stack, but landed on its side and rolled over.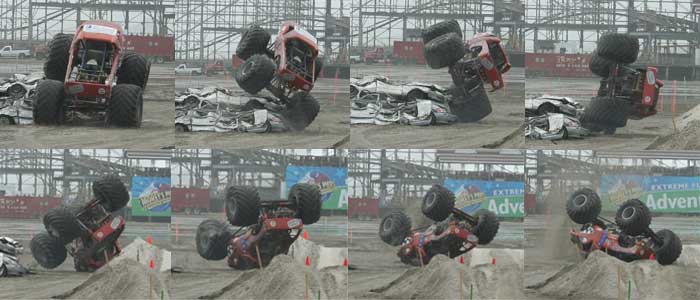 The crash did some severe body damage, especially after trying to bring the truck back on its wheels with the loader (Check out our
Videos
section to see it "live"!)

Other trucks at the show were Virginia Giant, Grave Digger, Batman, Monster Mutt, and Stone Crusher

Visit us on

Look at our live videos and some behind the scenes stuff!
New videos will be added soon!
<! ---links --->
You can also check out these Monster Truck sites for all the latest news
USHRA
,
Monster-Style
,
MichiganMonsterTrucks
,
All Monster
, and
The Monster Blog
And donít forget about the good old Television.
--
SPEED CHANNEL
hosts Monster Jam twice weekly, featuring all the USHRAĎs top stars including Avenger and Brutus.--
--
National Geographic Channelís
THRILL ZONE did a special called Monster Truck Tech a detailed look at monster trucks including interviews with Jim and some of his Crazy Freestyle from the Vermont 4x4 Jamborees.--
--
Spike TVís
Xtreme 4x4 caught a Wicked Crash by the Avenger at the Indy 4x4 Jamboree.--
--
ESPN 2
also had there cameras at the Jamborees.--
SO STAY TUNED AND STAY WILLLLLLDDDDDD!!!!