Another show with our four trucks running! Brutus, Avenger, and Spike were there, as well as the Wrecking Crew, which switched its body for a special body made by Monster Mash for their Halloween show. They called it the Masher.


The track was awesome with head to head Chicago Style racing, and some wild freestyle obstacles including a huge double wide mobile home.

Steve, Rich, Jim, and Chris all had interviews with Roy Coffman, the announcer, during the pit party.

A lot of fans were at the pit party. They were excited to get pictures and autographs. Because it was the Monster Mash, a ton of kids were dressed in their Halloween costumes; there was even a mini Jim Koehler. Every driver had candies to give to kids. It was sweet!

In racing, Chris made his way to the victory defeating Dream Catcher, Backdraft, Shock Therapy, and Eradicator.

Congratulation to Chris and Brutus for their Racing Win!

Also in racing, Steve was defeated by Jim in the first round, and Jim lost against Rich in the second round. Rich was defeated in the semi-finals by Eradicator.

In freestyle, Steve, driving the Masher, destroyed everything! He went through the double wide mobile home twice. (Center pictures are from Josh Schoen- Thanks for letting us use your pictures!)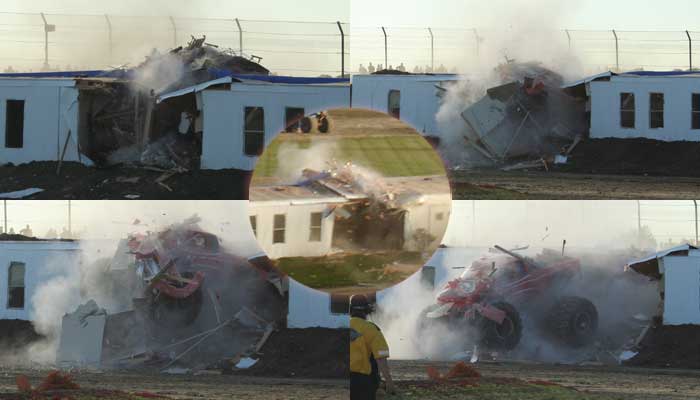 Check out our
Videos
section to see it "live"!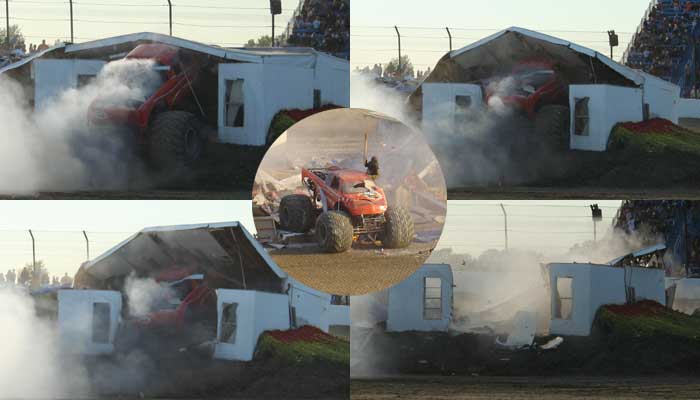 After its carnage, the truck was pretty damaged. The body was heavily smashed, the front clip was wasted. There were 2x4s stuck in the chassis, one of which took out the trans cooler, causing the truck to catch on fire, and on the top of all that, there was insulation from the house on top of the motor that fueled the fire ending the freestyle. The track officals were quick to put out the fire, and no one was hurt.

Here are some pictures of our four trucks taken during freestyle and racing


Those two pictures are from Josh Schoen



Both Steve and Rich did sweet donuts!





In early freestyle, Steve made a big save after a hard landing.
(Check out our
Videos
section to see it "live"!)



The other trucks at the show were Eradicator, who totally demolished another mobile home that they brought for freestyle,

as well as Dream Catcher, Sudden Impact, Lil' Miss Dangerous, Shock Therapy, and Backdraft



Visit us on

Look at our live videos and some behind the scenes stuff!
New videos will be added soon!
You can also check out
the Midwest Monsters' video
for Steve's freestyle highlights
Click here to see Chris' qualifying run
(Video posted by Josh Schoen)
<! ---links --->
You can also check out these Monster Truck sites for all the latest news
USHRA
,
Monster-Style
,
MichiganMonsterTrucks
,
All Monster
, and
The Monster Blog
And donít forget about the good old Television.
--
SPEED CHANNEL
hosts Monster Jam twice weekly, featuring all the USHRAĎs top stars including Avenger and Brutus.--
--
National Geographic Channelís
THRILL ZONE did a special called Monster Truck Tech a detailed look at monster trucks including interviews with Jim and some of his Crazy Freestyle from the Vermont 4x4 Jamborees.--
--
Spike TVís
Xtreme 4x4 caught a Wicked Crash by the Avenger at the Indy 4x4 Jamboree.--
--
ESPN 2
also had there cameras at the Jamborees.--
SO STAY TUNED AND STAY WILLLLLLDDDDDD!!!!