--- January 24th, 2009 ---
4th Show of 2009
Monster Jam at Lucas Oil Stadium Indianapolis, IN
Click here for the Monster Jam recap


"On the track in Indy both Chris Bergeron and Candice Jolly were turning heads with impressive performances. Like his teammate, Jim Koehler and Avenger, Bergeron has a brand new truck this season and both of the Team Scream drivers are off to great starts in 2009. Bergeron surprised everyone by turning in the second fastest qualifying time on the cyclone style track, and it wasn't a fluke. Brutus was flying all night until Bergeron rolled the truck over to end his pursuit of the night's racing trophy. He didn't win the event but he had lots of people talking about how fast the new Brutus truck is." - Monster Jam Online
The brand new Lucas Oil Stadium had a crazy track for us this weekend in Indianapolis.

A lot of fans came for the pit party. They even had a All Access Pit party an hour before the doors open for everyone else

Check out more pics of the pit party on our
Pit Party Photos
page

One of the Democross cars was painted as the Avenger.

All the drivers came in the back of a Ford Truck to draw their Qualifying numbers.

Jim was also really excited to receive his flag for the Monster Jam World Finals!

Both trucks did an awesome job in racing. Chris qualified second, after Meents. "Tom Meents opened the night as the fastest qualifier in Maximum Destruction with a blistering opening lap to grab the number one seed over second fastest qualifier, surprising Chris Bergeron in Brutus." - Monster Jam Online.


After beating Jim during the second round, Chris made it to the SemiFinals.

Unfortunately, Chris rolled over during his race against Batman


In freestyle, Chris came out first, and had some big air, and did a crazy donut.

Avenger came out strong getting big air over the can stack.


Chris almost rolled his truck over again in freestyle, but he saved it.





At the end of his donut, Brutus' motor blew up, which ended up Chris' freestyle.


Avenger's freestyle ended up early, due to a bent four link bar.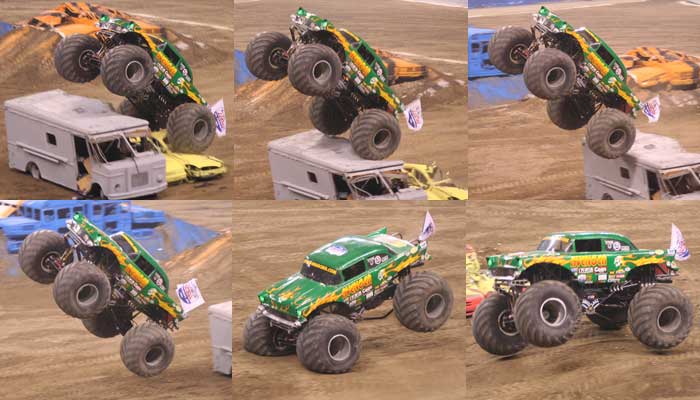 Other trucks at the show were Grave Digger (Randy Brown), Maximum Destruction (Tom Meents), Batman (John Seasock), Monster Mutt Dalmatian (Candice Jolly), Bob & Tom (Ricky Brantley), Rolling Thunder (Jim Bendzick), Eradiator (Andy Slifko), El Toro Loco (Chris Baker), Backdraft (Jeremy Slifko), and Rap Attack (Dave Rappach)





Guys from FMX were there too for the crowd's pleasure!

For more photos of the show in Indianapolis:
Monster Jam Gallery
Don't forget to check out our
Banner Contest
page <! ---links --->
You can also check out these Monster Truck sites for all the latest news
USHRA
,
Monster-Style
,
MichiganMonsterTrucks
,
All Monster
, and
The Monster Blog
And donít forget about the good old Television.
--
SPEED CHANNEL
hosts Monster Jam twice weekly, featuring all the USHRAĎs top stars including Avenger and Brutus.--
--
National Geographic Channelís
THRILL ZONE did a special called Monster Truck Tech a detailed look at monster trucks including interviews with Jim and some of his Crazy Freestyle from the Vermont 4x4 Jamborees.--
--
Spike TVís
Xtreme 4x4 caught a Wicked Crash by the Avenger at the Indy 4x4 Jamboree.--
--
ESPN 2
also had there cameras at the Jamborees.--
SO STAY TUNED AND STAY WILLLLLLDDDDDD!!!!