--- February 6-7, 2009 ---
8th Show of 2009
Monster Jam at the Peoria Civic Center Peoria, IL
Click here for the Monster Jam recap


Special Thanks to Andrew Pellegrine (Monsterjamonline.com) to let us use his pictures (At the bottom of the page)
The pit party was pretty cool. Fans were excited to get pictures and autographs.


Trucks did not win racing, but Jim did a pretty good job getting into the semi finals


Avenger and Wrecking Crew were ready for freestyle. They got big air and did nice sky wheelie





Jim won freestyle during the Saturday pm show






Jim got big air during his freestyle Saturday night, and ended up breaking the front housing.
The truck just got stuck in the mudd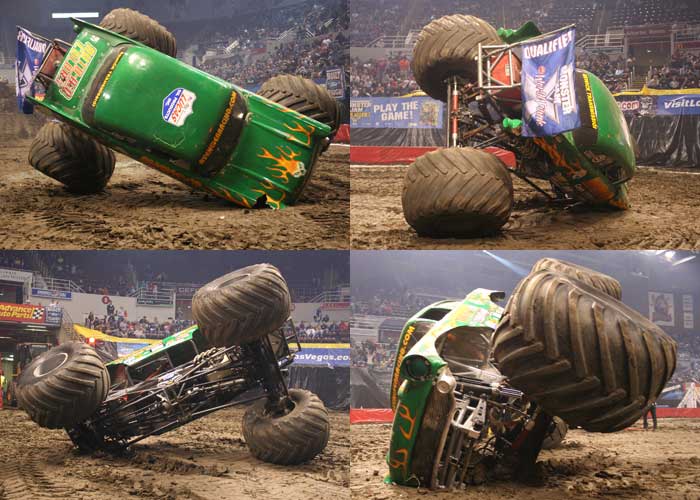 A lot of fans were there at the autograph session at the end of the shows

Other trucks at the show were Raminator (Mark Hall), Rammunition (Geremie Dishman), Safe Auto Minimizer (Marc McDonald), & Pastrana 199 (Cam McQueen)



The guys from FMX were also there for the freestyle motocross

Thanks to Andrew Pellegrine for the following pictures


For more photos of the Monster Jam shows:
Monster Jam Gallery
Don't forget to check out our
Banner Contest
page <! ---links --->
You can also check out these Monster Truck sites for all the latest news
USHRA
,
Monster-Style
,
MichiganMonsterTrucks
,
All Monster
, and
The Monster Blog
And donít forget about the good old Television.
--
SPEED CHANNEL
hosts Monster Jam twice weekly, featuring all the USHRAĎs top stars including Avenger and Brutus.--
--
National Geographic Channelís
THRILL ZONE did a special called Monster Truck Tech a detailed look at monster trucks including interviews with Jim and some of his Crazy Freestyle from the Vermont 4x4 Jamborees.--
--
Spike TVís
Xtreme 4x4 caught a Wicked Crash by the Avenger at the Indy 4x4 Jamboree.--
--
ESPN 2
also had there cameras at the Jamborees.--
SO STAY TUNED AND STAY WILLLLLLDDDDDD!!!!