--- February 13-15, 2009 ---
10th Show of 2009
Monster Jam at the DCU Center Worcester, MA
Click here for the Monster Jam recap


Special Thanks to
Cale Putnam
,
Ray
,
Robert Mulrain
and
Steve Kaufman
for the pictures
The track in Worcester was pretty cool, with a Chicago style racing.

The fans had a lot of fun at the pit party
Check out more pics of the pit party on our
Fans Photos
page

Avenger and Wrecking Crew were representing Team Scream in Worcester this weekend!

Wrecking almost rolled over Friday night during freestyle, but the truck came back on its wheels after a donut on its side!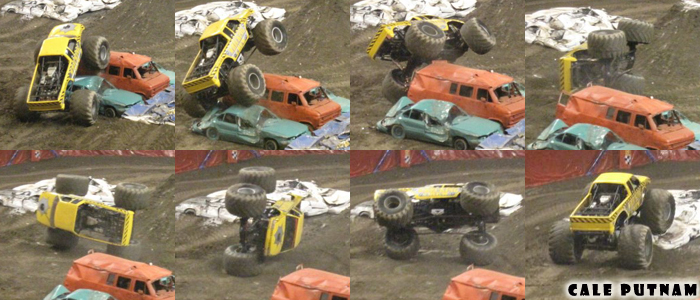 It was a really good weekend for Jim and the Avenger. Avenger won the wheelie contest on Friday, and on Saturday pm, and with a perfect score of 30, tied for the Freestyle win on Saturday pm. Grave Digger ended up winning, but Avenger came back stronger during the night show and was the freestyle winner!






Also, Jeff Anderson, one of Team Scream's crew, drove Warrior Friday night, for Bob Robbins
"Warrior, with Jeff Anderson at the controls, started it off, immediately tumbling onto its top. The driver was okay, but the body was badly damaged when it was righted." - MonsterJam Online


Besides Avenger, Wrecking Crew, and Warrior (driven by Roger Cardot on Saturday & Sunday), other trucks at the show were: Pure Adrenaline (Carl Van Horn), Aftershock (Bob Robbins), Thrasher (Pat Summa), El Toro Loco (Chris Baker) and Grave Digger (Randy Brown)
For more photos of the show:
Check out Cale Putnam Gallery
For more photos of the Monster Jam shows:
Monster Jam Gallery
Don't forget to check out our
Banner Contest
page <! ---links --->
You can also check out these Monster Truck sites for all the latest news
USHRA
,
Monster-Style
,
MichiganMonsterTrucks
,
All Monster
, and
The Monster Blog
And donít forget about the good old Television.
--
SPEED CHANNEL
hosts Monster Jam twice weekly, featuring all the USHRAĎs top stars including Avenger and Brutus.--
--
National Geographic Channelís
THRILL ZONE did a special called Monster Truck Tech a detailed look at monster trucks including interviews with Jim and some of his Crazy Freestyle from the Vermont 4x4 Jamborees.--
--
Spike TVís
Xtreme 4x4 caught a Wicked Crash by the Avenger at the Indy 4x4 Jamboree.--
--
ESPN 2
also had there cameras at the Jamborees.--
SO STAY TUNED AND STAY WILLLLLLDDDDDD!!!!