--- February 28, 2009 ---
12th Show of 2009
Monster Jam at the Jacksonville Municipal Stadium Jacksonville, FL
Click here for the Monster Jam recap


Both truck started the weekend in Jacksonville with displays. Brutus was at the Dairy Queen, and Avenger was at a private home for a Radio Contest.

Speed TV interviewed both Jim and Chris during the pit party.

A lot of fans were there to meet the drivers and get autographs and take pictures.
Check out more pics of the pit party on our
Pit Party Photos
page

The track in Jacksonville was pretty cool, with big obstacles and a lot of different options!

Brutus and Avenger did pretty good in qualifying, but did not win in their first round of racing. Destroyer defeated Avenger, and Mopar Magic defeated Brutus.

Brutus had a really good freestyle. (Look at the bottom of the page for the video of its freestyle)




After getting big air on the dirt hill, a hard landing projected the truck on its side, and it rolled over.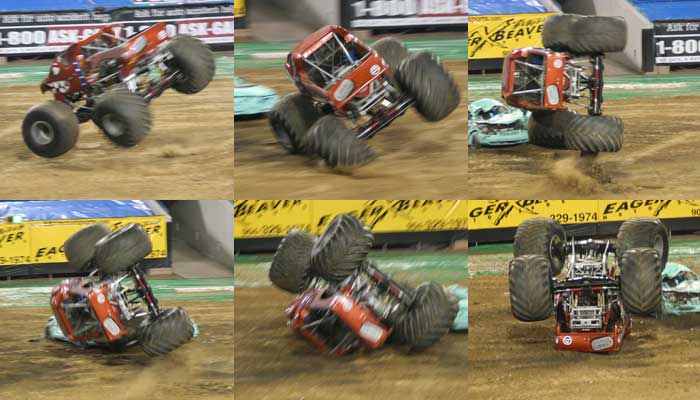 "Dan Evans in Destroyer and Chris Bergeron in Brutus were tied for the top score until Steve Simms ripped up the Jax floor in Stone Crusher to grab the hot seat[...]" - Scott Douglas, Monster Jam Online

Avenger had a really strong start in freestyle, but an early crash ended Jim's run. (Look at the bottom of the page for the video)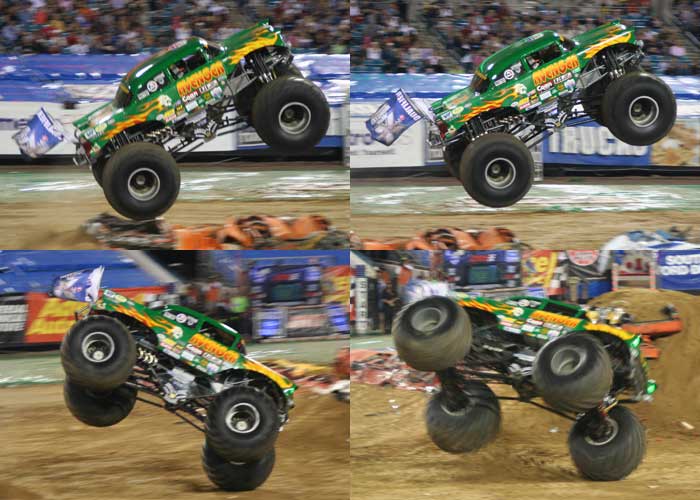 He wanted to keep going, but the officials would not let him restart the truck

Jim still had a crazy interview after his crash!

Other trucks at the show were: Grave Digger (Dennis Anderson), Maximum Destruction (Tom Meents), Taz (Adam Anderson), Blue Thunder (Linsey Weenk), Air Force Afterburner (Damon Bradshaw), Escalade (George Balhan), Madusa (Madusa), Gunslinger (Scott Hartsock), War Wizard (Randy Moore), Destroyer (Dan Evans), Stone Crusher (Steve Simms), Mopar Magic (Ricky Ownley) & Instigator (Lionel Easler)




Brutus' freestyle / Avenger's freestyle
For more photos of the Monster Jam shows:
Monster Jam Gallery
Don't forget to check out our
Banner Contest
page <! ---links --->
You can also check out these Monster Truck sites for all the latest news
USHRA
,
Monster-Style
,
MichiganMonsterTrucks
,
All Monster
, and
The Monster Blog
And donít forget about the good old Television.
--
SPEED CHANNEL
hosts Monster Jam twice weekly, featuring all the USHRAĎs top stars including Avenger and Brutus.--
--
National Geographic Channelís
THRILL ZONE did a special called Monster Truck Tech a detailed look at monster trucks including interviews with Jim and some of his Crazy Freestyle from the Vermont 4x4 Jamborees.--
--
Spike TVís
Xtreme 4x4 caught a Wicked Crash by the Avenger at the Indy 4x4 Jamboree.--
--
ESPN 2
also had there cameras at the Jamborees.--
SO STAY TUNED AND STAY WILLLLLLDDDDDD!!!!