--- March 6-17 2009 ---
Preparation for Vegas
Work in the paint shop
Click here for Details about our sponsors Auto-Air Colors & SATA


We started with new panels with a light blue base coat, created by mixing White Sealer with Process Blue about 2:1 mix

Next we got a basic layout of the skull and waves on the hood, using a couple templates we made and some White Sealer.

On the side panels we did the same with the white sealer just a basic layout but the started to add color to the name.

The colors we used were a mix of blue Auto Air Colors, Iridescent Electric Blue is the dark blue you see and the lighter ones are Process Blue.

To make sure the graphics lined up and the blues were consistent from panel to panel we bolted the body toeghter and started cutting in all the edges with the Process Blue.

The next step was to add the details

Thats the part that takes the longest.

This step involves a lot of tapeing and masking

Adding colors, highlights and shadows to give the project depth

We even added a little Jim Koehler surfer to one of the waves.

We used paint mask to layout the Auto Air Colors logo and outlined it with white, then added a ton of Hot Rod Skarless to make it pop.

To finish off the body and add some sparkle, we added a two coats of Hot Rod Sparkle White topped off with the a few coats of automotive clear to give it a shine.
Final result :)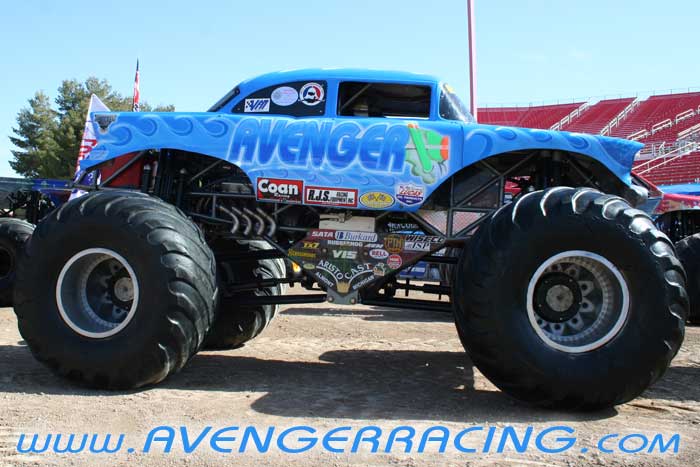 <! ---links --->
You can also check out these Monster Truck sites for all the latest news
USHRA
,
Monster-Style
,
MichiganMonsterTrucks
,
All Monster
, and
The Monster Blog
And donít forget about the good old Television.
--
SPEED CHANNEL
hosts Monster Jam twice weekly, featuring all the USHRAĎs top stars including Avenger and Brutus.--
--
National Geographic Channelís
THRILL ZONE did a special called Monster Truck Tech a detailed look at monster trucks including interviews with Jim and some of his Crazy Freestyle from the Vermont 4x4 Jamborees.--
--
Spike TVís
Xtreme 4x4 caught a Wicked Crash by the Avenger at the Indy 4x4 Jamboree.--
--
ESPN 2
also had there cameras at the Jamborees.--
SO STAY TUNED AND STAY WILLLLLLDDDDDD!!!!