--- May 2-3, 2009 ---
Week 18
15th Show of 2009
4-Wheel Jamboree Nationals at the Ozark Empire Fair Springfield, MO
Click here for Details


Special Thanks to
Kim Williams Delaney , Photo by Clint & the 4 Wheel Jamboree for some of the pictures on this page
Our four trucks were running at the first Jamboree of the season! General Tire is a body that we will run for the Jamboree. It will either replace Wrecking Crew, or Brutus, depending of the shows.
Racing went pretty well all weekend. Brutus won racing on Saturday, and then General Tire made it to the finals Saturday night and Sunday.

Brutus, Spike, Avenger & General Tire rocked in Freestyle Saturday.



Avenger did awesome freestyles on Saturday. Jim did a sweet wheelie, and a really nice donut.


Unfortunately, Avenger blew its motor Saturday night...

Spike was all over the place in freestyle. Rich had really great freestyles both shows on Saturday.

Back luck was on our side this weekend... at the end of Rich's freestyle, we found out that Spike's motor was blown up too...

So with two motors that blew up Saturday, only Brutus and General Tire were on the track with Big Foot and High Maintenance on Sunday.


Chris was awesome all weekend! Big air and nice wheelies and donuts. The truck was running great!




Steve & General Tire also had a good weekend. The three freestyles were awesome.



On Sunday, early in freestyle, Steve rolled over after hitting the van stack.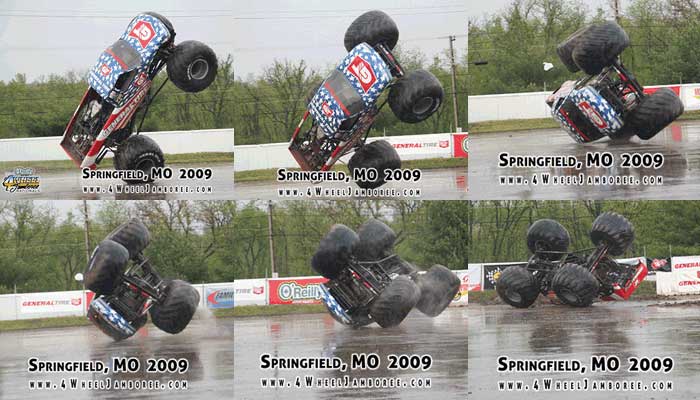 Thank you "Photo By Clint" for the whole crash' sequence! To see more pictures by Photo by Clint, visit their
MySpace





Other trucks at the show were: High Maintenance (Lil Miss Dangerous) & Big Foot

<! ---links --->
You can also check out these Monster Truck sites for all the latest news
USHRA
,
Monster-Style
,
MichiganMonsterTrucks
,
All Monster
, and
The Monster Blog
And donít forget about the good old Television.
--
SPEED CHANNEL
hosts Monster Jam twice weekly, featuring all the USHRAĎs top stars including Avenger and Brutus.--
--
National Geographic Channelís
THRILL ZONE did a special called Monster Truck Tech a detailed look at monster trucks including interviews with Jim and some of his Crazy Freestyle from the Vermont 4x4 Jamborees.--
--
Spike TVís
Xtreme 4x4 caught a Wicked Crash by the Avenger at the Indy 4x4 Jamboree.--
--
ESPN 2
also had there cameras at the Jamborees.--
SO STAY TUNED AND STAY WILLLLLLDDDDDD!!!!