--- May 9th, 2009 ---
20th Show of 2009
Monster Spectacular at the Colisee Pepsi Quebec, Quebec
Click here for the Monster Spectacular Website


Special Thanks to
Valerie Dore & Pierre-Antoine Plourde
for some of the pictures on this page
Six trucks & drivers made the trip to Quebec for the Monster Spectacular

Fans from Quebec were happy to be able to go in the pit and meet the drivers!

Jim and Chris gave interviews for the Monster Spectacular DVD, and for the fans!

First on the schedule was the Wheelie Contest. Avenger did a good job.

Each truck was going twice over the cars for the wheelie contest. Chris did an awesome job both times, and won the contest.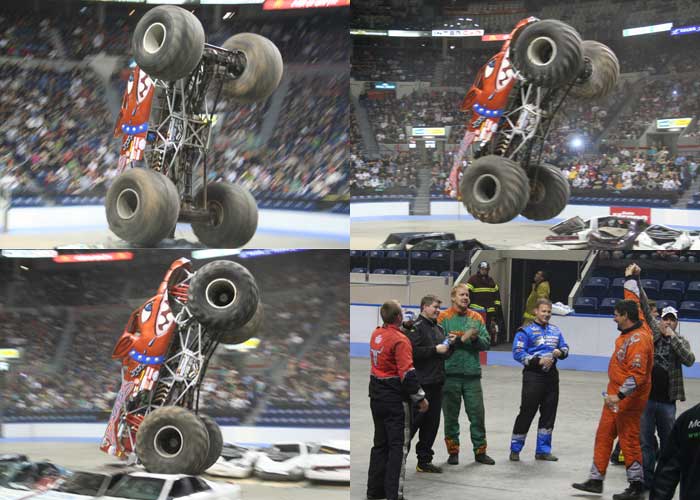 They performed good in racing, but they did not made it to the finals.

Avenger and Brutus both had great freestyles.


Trying to do a donut, Jim ended up rolling the truck over... the truck had some body damage, but nothing major.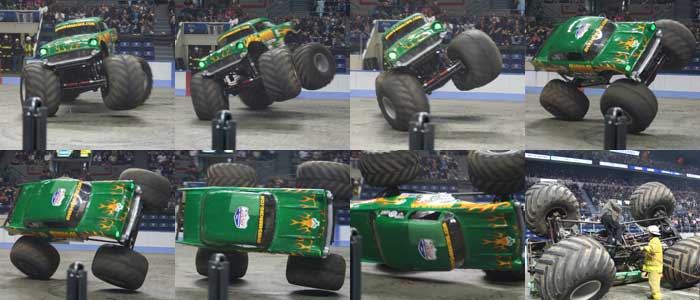 Other trucks at the show were Black Stallion, Iron Warrior, Bounty Hunter & Iron Outlaw


<! ---links --->
You can also check out these Monster Truck sites for all the latest news
USHRA
,
Monster-Style
,
MichiganMonsterTrucks
,
All Monster
, and
The Monster Blog
And donít forget about the good old Television.
--
SPEED CHANNEL
hosts Monster Jam twice weekly, featuring all the USHRAĎs top stars including Avenger and Brutus.--
--
National Geographic Channelís
THRILL ZONE did a special called Monster Truck Tech a detailed look at monster trucks including interviews with Jim and some of his Crazy Freestyle from the Vermont 4x4 Jamborees.--
--
Spike TVís
Xtreme 4x4 caught a Wicked Crash by the Avenger at the Indy 4x4 Jamboree.--
--
ESPN 2
also had there cameras at the Jamborees.--
SO STAY TUNED AND STAY WILLLLLLDDDDDD!!!!