--- May 15-17, 2009 ---
Week 20
21th Show of 2009
4-Wheel Jamboree Nationals at the Allen County Fairgrounds Lima, OH
Click here for Details


The weekend in Lima was really fun! Chris was driving the General Tire truck, and Jim was driving the Avenger.
"Breakfast with the drivers"

Lima was a really good weekend for Team Scream! We rocked the house in Freestyle, and the fans were excited!





Sunday, during his last freestyle, the General Tire truck lost a planetary cap. (Thanks to Paul Harry, from the Monster Blog, for finding it!)
Jim and Avenger had great freestyles during the weekend!




During the Sunday show, after hitting the van stack, Avenger rolled over, and the fans were on their feet!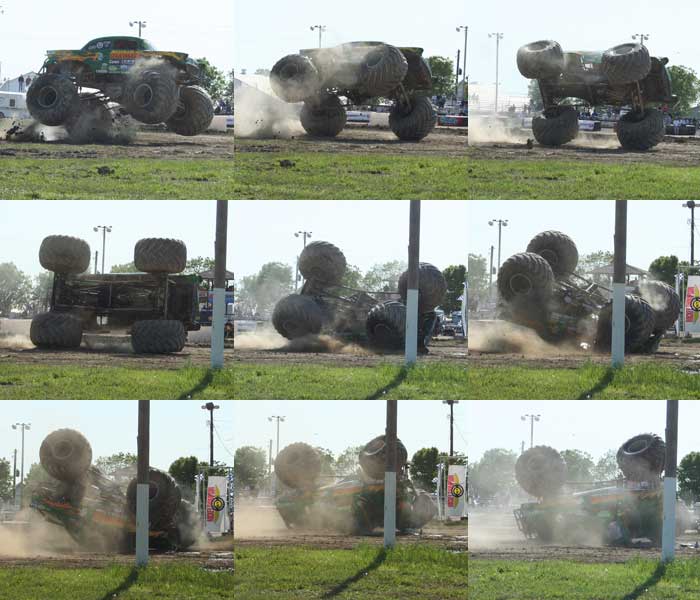 The roll over caused some body damage, and a bent rim.

Other trucks at the show were Big Foot, Snake Bite, TailGator, Big Dawg, Raminator and Rammunition


<! ---links --->
You can also check out these Monster Truck sites for all the latest news
USHRA
,
Monster-Style
,
MichiganMonsterTrucks
,
All Monster
, and
The Monster Blog
And donít forget about the good old Television.
--
SPEED CHANNEL
hosts Monster Jam twice weekly, featuring all the USHRAĎs top stars including Avenger and Brutus.--
--
National Geographic Channelís
THRILL ZONE did a special called Monster Truck Tech a detailed look at monster trucks including interviews with Jim and some of his Crazy Freestyle from the Vermont 4x4 Jamborees.--
--
Spike TVís
Xtreme 4x4 caught a Wicked Crash by the Avenger at the Indy 4x4 Jamboree.--
--
ESPN 2
also had there cameras at the Jamborees.--
SO STAY TUNED AND STAY WILLLLLLDDDDDD!!!!