--- June 19-21, 2009 ---
24th Show of 2009
Monster Spectacular at the Sarnia Sports and Entertainment Center Sarnia, Ontario
Scotiabank Place Ottawa, Ontario
Trois-Rivieres Sulky Trois-Rivieres, Quebec
Click here for the Monster Spectacular Website


SARNIA - JUNE 19, 2009
The weekend started early for Steve and Stephanie, who left Wednesday night for Sarnia. Wrecking Crew was on display at the arena Thursday and Friday, and Spike did a car crush for the local medias.

Sarnia was a "Team Scream Show" with all four of our trucks!

The fans were excited to meet the Team Scream drivers!
Check out more pics of the pit party on our
Pit Party Photos
page

Doug interviewed the drivers during the pit party. It was pretty wiiiiiiild!

After Jim's racing victory, Wrecking Crew was the first one to freestyle. He did pretty good, and had a sweet save!

Jeff Anderson and Spike went second in freestyle. Unfortunately, due to steering problems, Spike had a short run.

Rich and Brutus were next. Rich did an amazing job. He was all over, and had an amesome save! The crowd was on their feet!


Avenger was last to freestyle, and Jim had a really good freestyle run.



OTTAWA - JUNE 20, 2009
Thank you to Heather Swan for some of the picture from Ottawa
After the show in Sarnia, Jim had to go back to Michigan to drop his trailer and Wrecking Crew & Spike. Brutus and Avenger were the only Team Scream trucks to compete in Ottawa and Trois-Rivieres for the rest of the tour.
Rich and Jim had fun meeting the fans during the pit party.
Check out more pics of the pit party on our
Pit Party Photos
page

Marc and Doug did a crazy interview with Jim!

Avenger and Brutus raced against each other, and at the end of the race, Brutus blew one of his tire.

We only had couple minutes to get the spare, take the tire off and put the new one on. We did it! (We actually did it so fast than when we were putting the tire back on, one of the track guy came and said: "you don't have time to change it, leave it there"... we were like "We already changed it, that's the new one!" Anyway... it was kinda funny! So Brutus was ready for freestyle!

Rich did a good job in freestyle.

The truck ended up its freestyle on its roof! The crowd went nuts!

We used Avenger to put the truck back on its wheels.


Jim and Avenger were excellent during freesytle. It was a sweet run!

Other trucks at the show were Godzilla, Black Stallion and Iron Warrior.
TROIS-RIVIERES - JUNE 21, 2009
During introduction, Brutus' roof flew off due to the roll over that happened in Ottawa the day before. So it was a new "convertible" Brutus that competed in Trois-Rivieres!

Avenger and Brutus rocked the Trois-Rivieres Sulky! It was an awesome show!






Other trucks at the show were Godzilla, Black Stallion and Iron Warrior.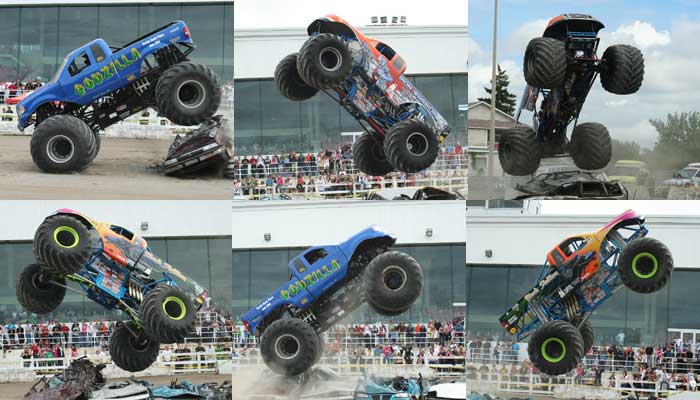 <! ---links --->
You can also check out these Monster Truck sites for all the latest news
USHRA
,
Monster-Style
,
MichiganMonsterTrucks
,
All Monster
, and
The Monster Blog
And donít forget about the good old Television.
--
SPEED CHANNEL
hosts Monster Jam twice weekly, featuring all the USHRAĎs top stars including Avenger and Brutus.--
--
National Geographic Channelís
THRILL ZONE did a special called Monster Truck Tech a detailed look at monster trucks including interviews with Jim and some of his Crazy Freestyle from the Vermont 4x4 Jamborees.--
--
Spike TVís
Xtreme 4x4 caught a Wicked Crash by the Avenger at the Indy 4x4 Jamboree.--
--
ESPN 2
also had there cameras at the Jamborees.--
SO STAY TUNED AND STAY WILLLLLLDDDDDD!!!!