--- August 21-23, 2009 ---
33rd Show of 2009
Monster Truck show at the Frederick County Fairgrounds Winchester, VA
Click here for Details


The weekend started with a lot of rain... The show scheduled Friday night was actually canceled, and was postponed to Sunday instead.
Chris and Steve were in Virginia this weekend, with Brutus and Avenger.

Even if the rain was insane Friday night, the fans were still there to get autographs and pictures with the drivers! Sunday, the weather was way better!


The show started with the Wheelie contest. Both trucks did good, but Chris dominated and won the cheer off on Sunday!



It was side by side racing, and it went pretty well for our both trucks during the weekend.

Avenger and Brutus did great freestyles during the weekend.


Brutus' donut on Sunday was awesome!





Because his rear steering was locked up, Steve ended up his freestyle by a pretty spectacular crash.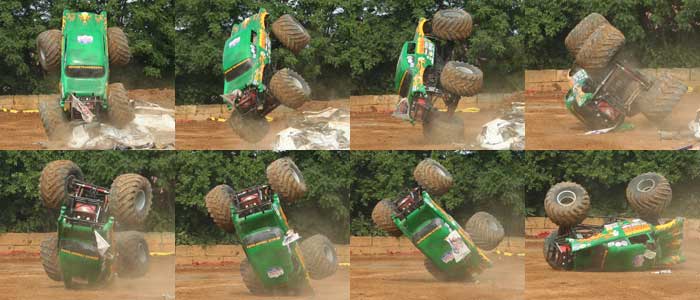 Besides the apparent damage on the body, the chassis also suffered from the crash.

Besides Avenger and Brutus, the other trucks at the show were:
Screamin' Demon and Black Stallion

and Killer Bee, Storm Damage and Iron Warrior

Special Thanks to
Andrew Fitzpatrick
for the following pictures.



<! ---links --->
You can also check out these Monster Truck sites for all the latest news
USHRA
,
Monster-Style
,
MichiganMonsterTrucks
,
All Monster
, and
The Monster Blog
And donít forget about the good old Television.
--
SPEED CHANNEL
hosts Monster Jam twice weekly, featuring all the USHRAĎs top stars including Avenger and Brutus.--
--
National Geographic Channelís
THRILL ZONE did a special called Monster Truck Tech a detailed look at monster trucks including interviews with Jim and some of his Crazy Freestyle from the Vermont 4x4 Jamborees.--
--
Spike TVís
Xtreme 4x4 caught a Wicked Crash by the Avenger at the Indy 4x4 Jamboree.--
--
ESPN 2
also had there cameras at the Jamborees.--
SO STAY TUNED AND STAY WILLLLLLDDDDDD!!!!