Special Thanks to
Kelly and Chuck Smith, and Jim Haas
for some of the pictures on this page
The weekend started with the Pit Party on Friday night. Lots of fans came to meet the drivers.
Thanks to the Lomas Family for their banner and t-shirts!
Check out more pics of the pit party on our
Pit Party Photos
page

The weekend went really well for Team Scream. Chris made it to the Finals in racing two times during the weekend, and Jim made it to the Finals once. Chris was actually in the running with Grave Digger until the end for the King Of The Beach title.

Both trucks did awesome during the whole weekend.






Coming from the back on the dirt hill, Jim nosed dive the Avenger and got back on its wheels. It was awesome.





Chris ended up his freestyle on Sunday with a spectacular crash. After jumping the cars stack, the truck did a wheelie, and then just flipped on its side as Chris was giving more gas.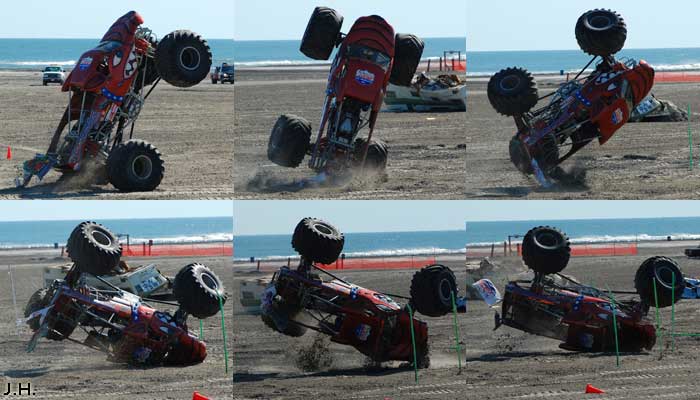 The crash caused major body damage, and also a lot of damage on the truck. Bent four link bar, broken wheel, broken steering cylinder, and more...


Jim's freestyle also ended up suddenly on Sunday, when one of the rods went through the oil pan...

Other trucks at the show were Grave Digger, Monster Mutt, Stone Crusher, Mopar Magic, and War Wizard.
<! ---links --->
You can also check out these Monster Truck sites for all the latest news
USHRA
,
Monster-Style
,
MichiganMonsterTrucks
,
All Monster
, and
The Monster Blog
And donít forget about the good old Television.
--
SPEED CHANNEL
hosts Monster Jam twice weekly, featuring all the USHRAĎs top stars including Avenger and Brutus.--
--
National Geographic Channelís
THRILL ZONE did a special called Monster Truck Tech a detailed look at monster trucks including interviews with Jim and some of his Crazy Freestyle from the Vermont 4x4 Jamborees.--
--
Spike TVís
Xtreme 4x4 caught a Wicked Crash by the Avenger at the Indy 4x4 Jamboree.--
--
ESPN 2
also had there cameras at the Jamborees.--
SO STAY TUNED AND STAY WILLLLLLDDDDDD!!!!