Team Scream is proud to announce that Jim will be going to Australia in November to drive the monster truck
RAPTORS RAMPAGE at the South Pacific World Finals.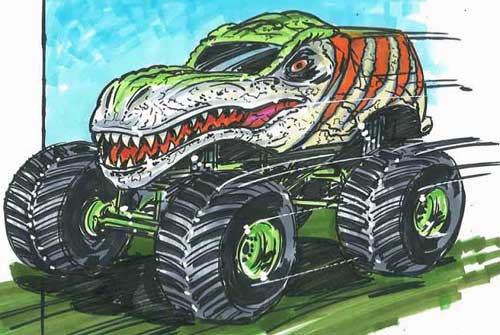 Article published on the Australian website:
Jim Koehler World Finals bound Mr. excitement himself is about to unleash a new breed of excitement and monster entertainment onto Australia's unsuspecting monster truck fans when he makes his southern hemisphere debut in this years South Pacific World finals at the Brisbane International Speedway on November 14.

Jim will be a great hit with the Brisbane fans but wont be asked to jump into any pools of water, we really think that's a USA thing lets leave that for Vegas, was the Extreme Monster truck Australia promotion comment just the way Jim livens up the microphone should put most of Brisbane into a tailspin.

Five other drivers from US will also travel to Australia for the World Finals, including Dan Patrick, Kreg Christensen, and others!
Links:
Extreme Monster Truck Australia
DownUnder Monsters
<! ---links --->
You can also check out these Monster Truck sites for all the latest news
USHRA
,
Monster-Style
,
MichiganMonsterTrucks
,
All Monster
, and
The Monster Blog
And donít forget about the good old Television.
--
SPEED CHANNEL
hosts Monster Jam twice weekly, featuring all the USHRAĎs top stars including Avenger and Brutus.--
--
National Geographic Channelís
THRILL ZONE did a special called Monster Truck Tech a detailed look at monster trucks including interviews with Jim and some of his Crazy Freestyle from the Vermont 4x4 Jamborees.--
--
Spike TVís
Xtreme 4x4 caught a Wicked Crash by the Avenger at the Indy 4x4 Jamboree.--
--
ESPN 2
also had there cameras at the Jamborees.--
SO STAY TUNED AND STAY WILLLLLLDDDDDD!!!!