--- October 24th, 2009 ---
40th Show of 2009
Monster Spectacular at the Olympic Stadium Montreal, Quebec
Click here for the Monster Spectacular Website


Special Thanks to
Heather Swan
and
Neil Barlow
for some of the pictures on this page & to
Ross Bonar (The Monster Blog)
for letting us use his camera!
Once again, lots of obstacles were on the track at the Olympic Stadium, including the backflip ramp!

For the second time in 2009, our four trucks were performing in Montreal! However, this time, Spike Unleashed became the Weapon One.

Lots of fans came during the pit party to meet the drivers!
Check out more pics of the pit party on our
Pit Party Photos
page

For the first time, the crew from
The Monster Blog
was in Canada to cover an event! They interviewed Rich after the show, and they also asked Stephanie for a special collaboration for their TMBTV episode from Montreal... :)
Yaz was also there as the announcer of the show, and interviewed Jim about Larry Quick's backflip!

All of our trucks did an amazing job in Montreal. Jim, Chris, Steve & Rich all did pretty decent wheelie, and Jim had good racing passes.

During freestyle, we had different problems with the trucks... such as broken shaft on Wrecking Crew, broken rim on Avenger, broken steering cylinder on Brutus... and a flat tire on Spike... However, the four trucks gave a really good performance, and Rich almost won freestyle, but Bounty Hunter was called the winner!







Rich ended his freestyle with a spectacular roll over, causing some breakages on the truck, as well as some body damages... huh huh!

Thanks to Neil Barlow for the following pictures!

Thanks to Heather Swan for the following pictures!







Ghost Rider was there to perform the first Backflip in a Monster truck in Canada! He nailed it!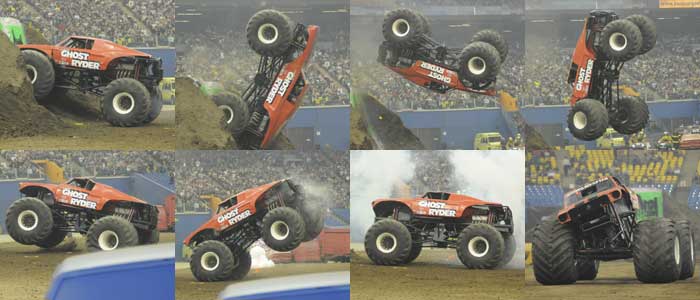 Other trucks at the show were Bounty Hunter, Iron Outlaw, Big Foot, Samson,

Shock Therapy, Excaliber, After Shock and Native Warrior

Check out
The Monster Blog
for the TMBTV episode from Montreal
Check also
FlagWorld
photos & Videos
<! ---links --->
You can also check out these Monster Truck sites for all the latest news
USHRA
,
Monster-Style
,
MichiganMonsterTrucks
,
All Monster
, and
The Monster Blog
And donít forget about the good old Television.
--
SPEED CHANNEL
hosts Monster Jam twice weekly, featuring all the USHRAĎs top stars including Avenger and Brutus.--
--
National Geographic Channelís
THRILL ZONE did a special called Monster Truck Tech a detailed look at monster trucks including interviews with Jim and some of his Crazy Freestyle from the Vermont 4x4 Jamborees.--
--
Spike TVís
Xtreme 4x4 caught a Wicked Crash by the Avenger at the Indy 4x4 Jamboree.--
--
ESPN 2
also had there cameras at the Jamborees.--
SO STAY TUNED AND STAY WILLLLLLDDDDDD!!!!