--- January 22nd, 2011 ---
3rd Show of 2011
Monster Jam at the Qualcomm Stadium San Diego, CA
Click here for the Monster Jam recap


Next stop on our West Coast Tour was San Diego! After spending another week at the Swanson's place, changing Avenger's motor, fixing fiberglass, washing trucks and tires, changing a driveshaft... we were ready for San Diego.
We got there at 1:30am, and tired up 3 of the 4 trucks. We were done at 3am, and it was time to go to bed since we had to wake up at 5am for media!
Trucks ready: 3am

There were 4 different TV crews, and we were doing interviews from 6 to 9. It was a long, but fun morning.


Track in San Diego

Check out more pics of the pit party on our
Pit Party Photos
page


For San Diego, 3 of our trucks had Fun Bike Racing flags during the pit party and during the show.

Check out their website to get the coolest racing gear!


Spike, Wrecking Crew and Avenger all lost their first round, but Brutus had amazing racing passes and made it to the Semi Finals.

Wrecking Crew was first up for freestyle. He had a great freestyle run, and got some big air.
(Score: 15 + 1 Bonus = 16)




Steve's freestyle ended up with a rollover. Besides body damage, the truck was fine.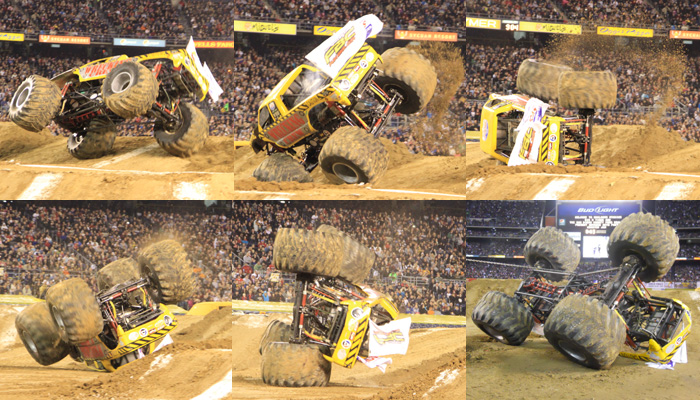 Spike was the second Team Scream truck up for freestyle. Rich was all over the track. He even did a donut on the table top! It was awesome. Unfortunately, Spike had some transmission problems, and the truck caught on fire.
(Score 17 + 1 Bonus = 18)




Brutus' freestyle started great! But unfortunately, he could not fill the clock due to steering problems.
(Score 11)

Avenger was on a mission as soon as it lefts the pits! Big Air, saves, and an intense crash at the end!
(Score 27 +4 Bonus = 31)
Avenger ended second in freestyle.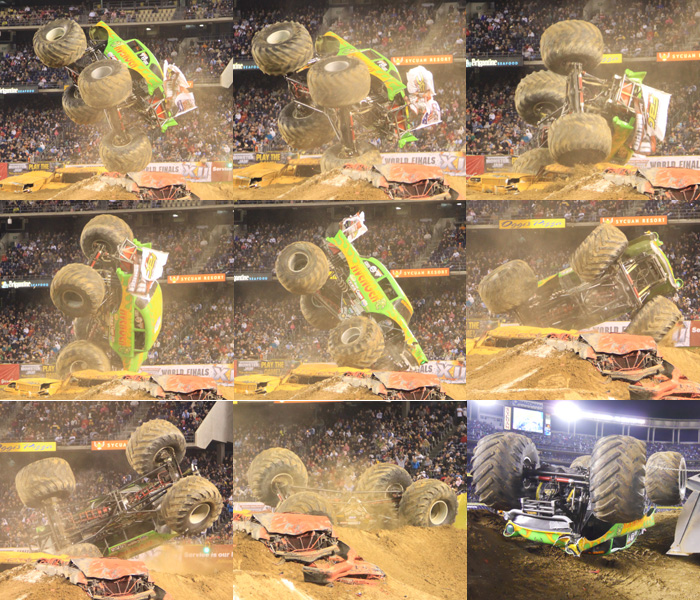 CHECK OUT THIS RACING VIDEO RECAP
CHECK OUT THIS FREESTYLE VIDEO RECAP
Wrecking Crew @ 0.00
Spike @ 2.13
Brutus @ 10.00
Avenger @ 12.22
PHOENIX: HERE WE COME!
Check out our
"Behind the Scenes- SPECIAL WEST COAST JANUARY 2011"
page for more coverage on our West Coast Tour!
For more photos of the Monster Jam shows:
Monster Jam Gallery
<! ---links --->
You can also check out these Monster Truck sites for all the latest news
USHRA
,
Monster-Style
,
MichiganMonsterTrucks
,
All Monster
, and
The Monster Blog
And donít forget about the good old Television.
--
SPEED CHANNEL
hosts Monster Jam twice weekly, featuring all the USHRAĎs top stars including Avenger and Brutus.--
--
National Geographic Channelís
THRILL ZONE did a special called Monster Truck Tech a detailed look at monster trucks including interviews with Jim and some of his Crazy Freestyle from the Vermont 4x4 Jamborees.--
--
Spike TVís
Xtreme 4x4 caught a Wicked Crash by the Avenger at the Indy 4x4 Jamboree.--
--
ESPN 2
also had there cameras at the Jamborees.--
SO STAY TUNED AND STAY WILLLLLLDDDDDD!!!!