--- January 29th, 2011 ---
4th Show of 2011
Monster Jam at Chase Field Phoenix, AZ
Click here for the Monster Jam recap


Special Thanks to
Ross Bonar - TheMonsterBlog.com
,
Tommy Evans
&
Tony Brown
for the pictures on this page
Our last stop on the West Coast Tour was Phoenix, AZ. It was great to be in Arizona again!
On Friday morning, we had media again. Everything went well.

For Arizona, Spike had a brand new body... with a touch of pink! You would think Stephanie had something to do with it, but no! Actually, we did not paint this body, we had the people at Modatomic Custom Painting do the Spike and Brutus bodies for the West Coast Tour, hence the "special Spike body!

Thanks to Ross Bonar - TheMonsterBlog.com for the following pictures

The Monster Blog: Avenger and Madusa make contact crossing the finish line in round one of racing at Chase Field. Koehler would get the win and make his way to the semi's before being ousted by Grave Digger.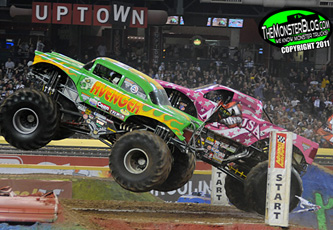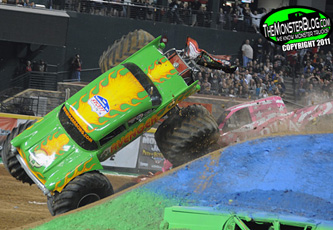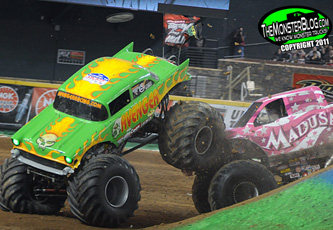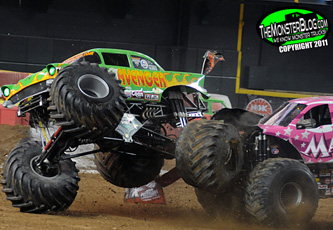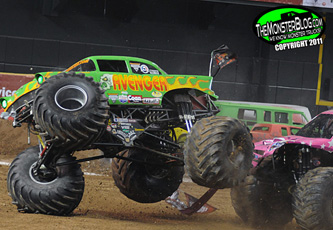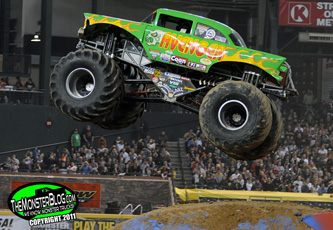 The Monster Blog: "Jim Koehler in Avenger laid down an impressive freestyle run that was vintage Mr. Excitement with plenty of big air and two massive crossthread jumps, the second ending with Avenger flipping wildly. Koehler followed up his freestyle by jumping into the Chase Field pool."
Short recap for other trucks: Wheel came off of Wrecking Crew, Spike had steering problems but did some cyclones, and Brutus got a nice freestyle, but ended on its roof, which even cracked the chassis...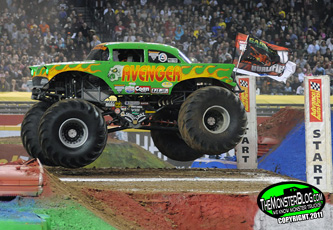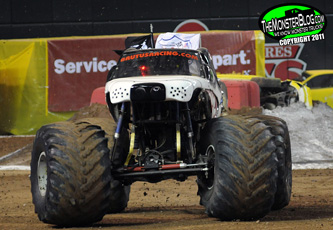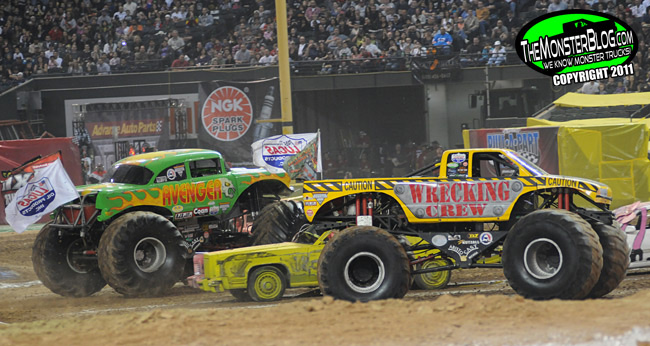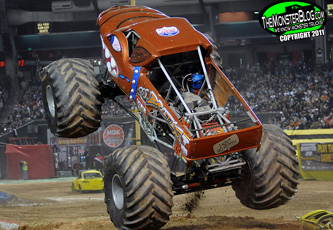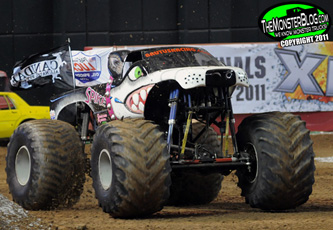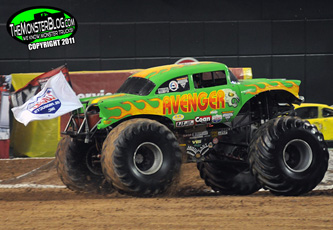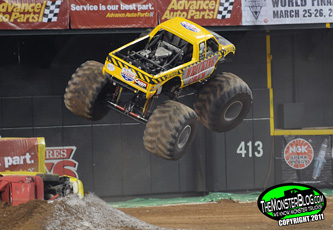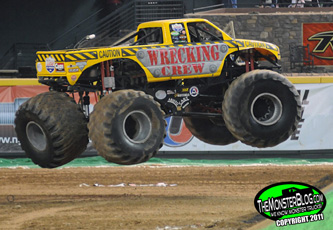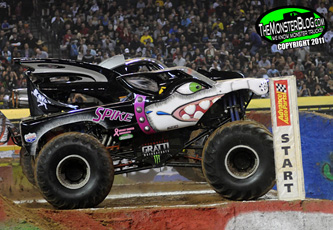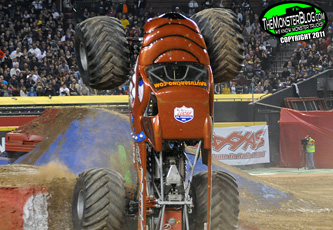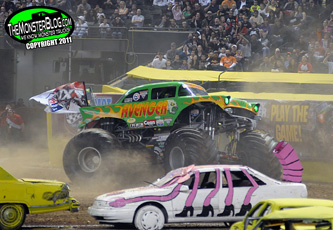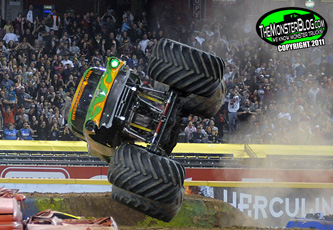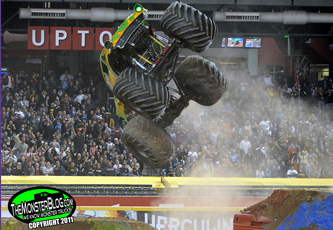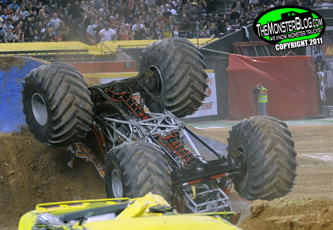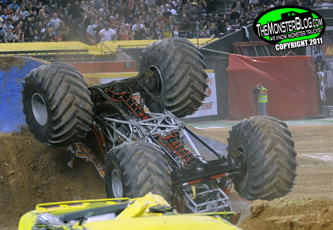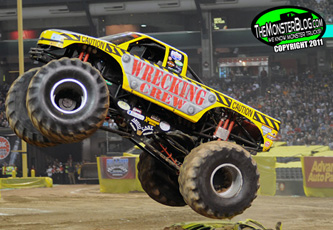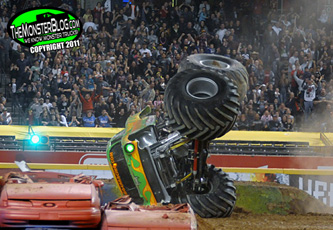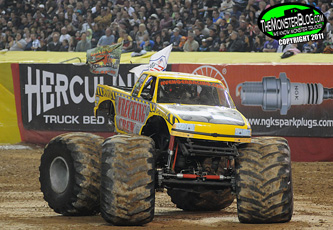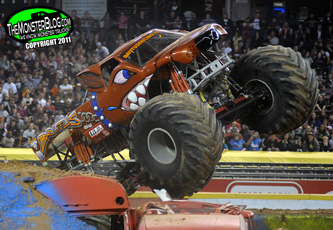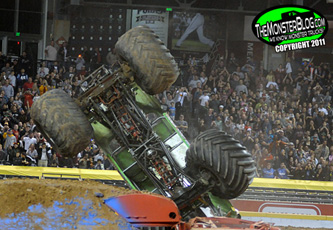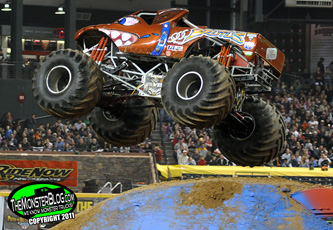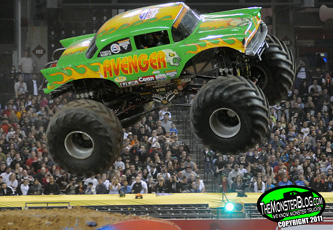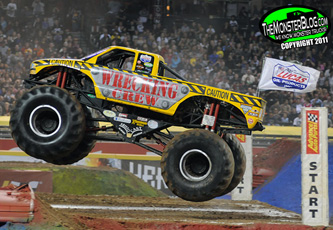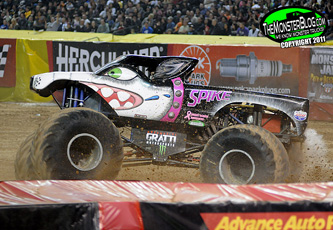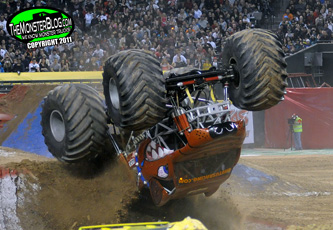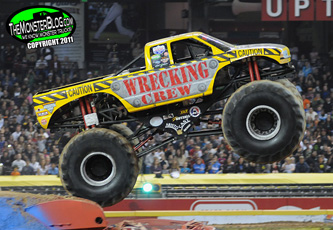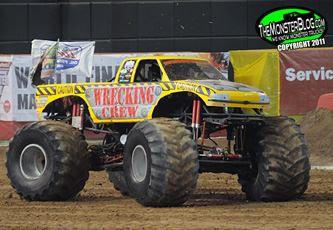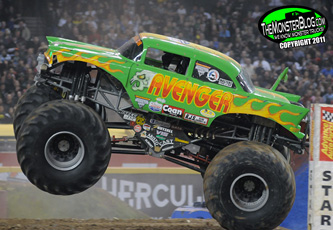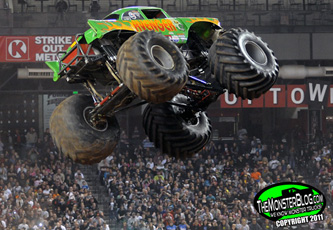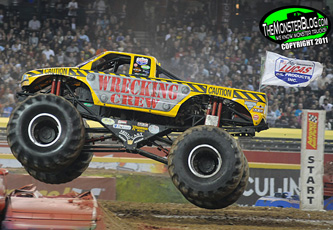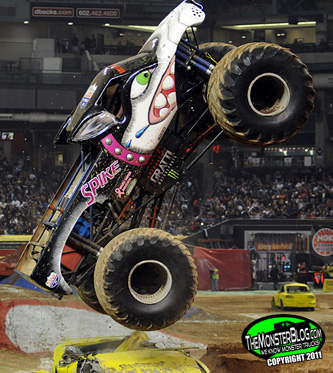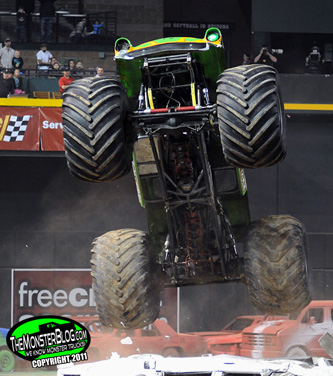 Thanks to Tony Brown for the following pictures






Thanks to Tommy Evans for the following pictures


Don't forget to visit
The Monster Blog
for videos and more pictures!

Next stop on the tour: Peoria, IL
Check out our
"Behind the Scenes- SPECIAL WEST COAST JANUARY 2011"
page for more coverage on our West Coast Tour!
For more photos of the Monster Jam shows:
Monster Jam Gallery
<! ---links --->
You can also check out these Monster Truck sites for all the latest news
USHRA
,
Monster-Style
,
MichiganMonsterTrucks
,
All Monster
, and
The Monster Blog
And donít forget about the good old Television.
--
SPEED CHANNEL
hosts Monster Jam twice weekly, featuring all the USHRAĎs top stars including Avenger and Brutus.--
--
National Geographic Channelís
THRILL ZONE did a special called Monster Truck Tech a detailed look at monster trucks including interviews with Jim and some of his Crazy Freestyle from the Vermont 4x4 Jamborees.--
--
Spike TVís
Xtreme 4x4 caught a Wicked Crash by the Avenger at the Indy 4x4 Jamboree.--
--
ESPN 2
also had there cameras at the Jamborees.--
SO STAY TUNED AND STAY WILLLLLLDDDDDD!!!!