--- April 16th, 2011 ---
17th Show of 2011
Monster Spectacular at the Scotiabank Place Ottawa, Ontario
Click here to visit the Monster Spectacular website


Special Thanks to
Johany Jutras
,
Heather Swan
&
Tom Cruickshank
for some of the pictures on this page
AWESOME NIGHT FOR TEAM SCREAM!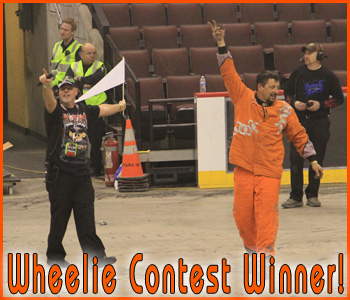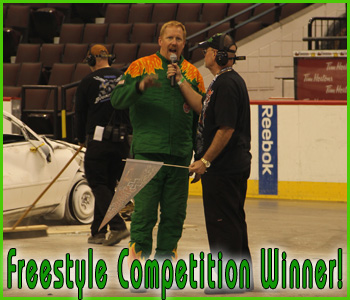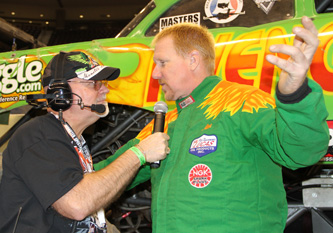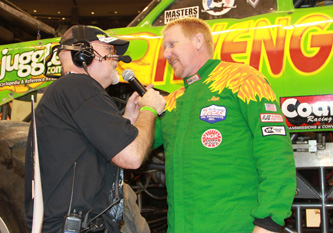 Check out more pics of the pit party on our
Pit Party Photos
page

WHEELIE
Bergeron blasted Brutus skyward on his first pass and landed "pogo" style, landing perfectly vertical by planting his wheelie bar into the final car in the stack. But his second pass was even more spectacular, hitting a massive sky wheelie. But the car stack collapsed sending Brutus sideways. Bergeron somehow pulled the big dog out of a bicycle on the passenger side two wheels and set the truck down on all four tires. Even Koehler preempted the cheeroff to congratulate the obvious winner - his Team Scream team mate, Chris Bergeron. - Doug Denance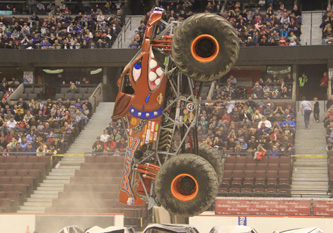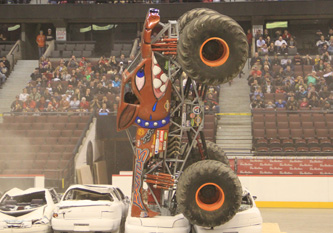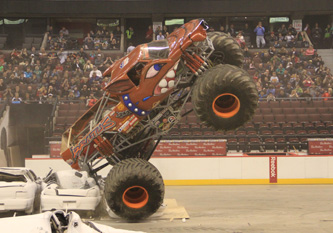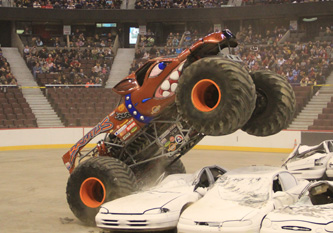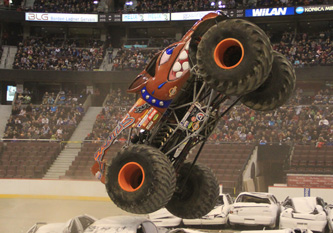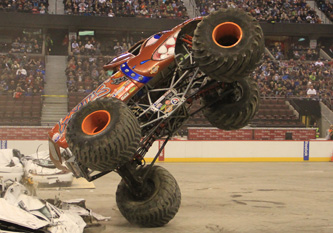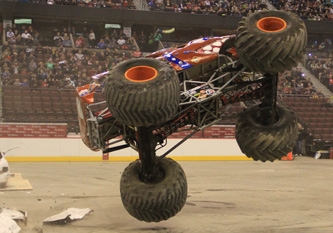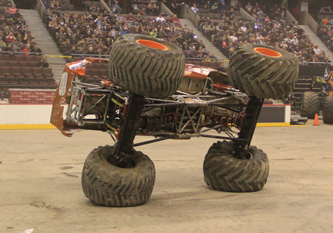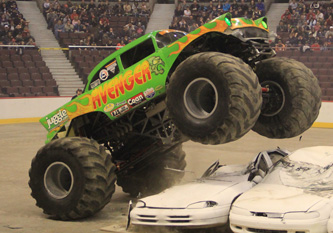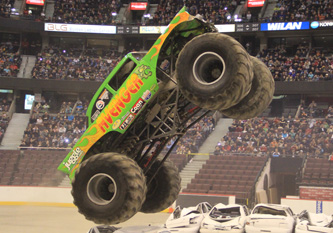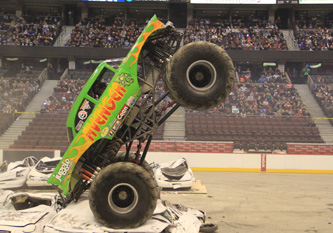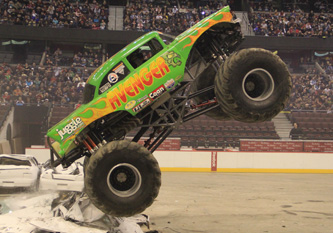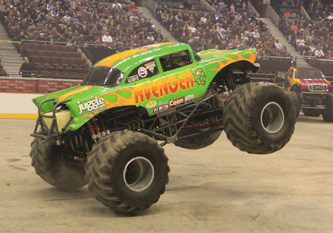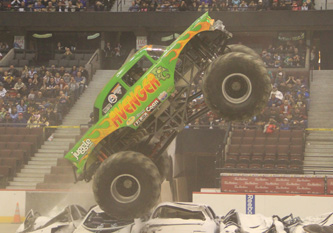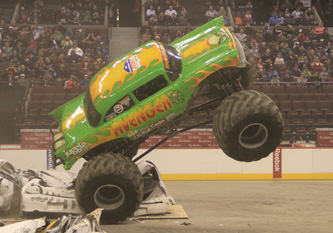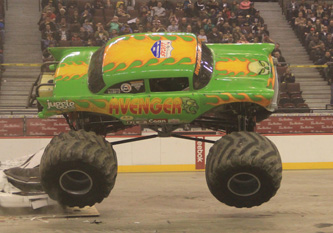 RACING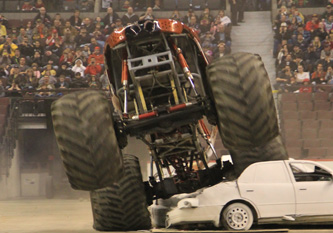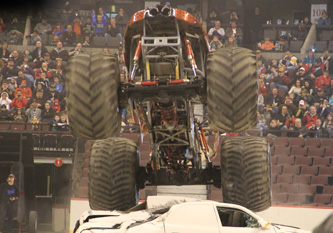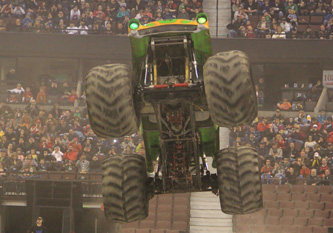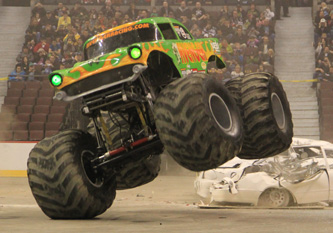 FREESTYLE
During an interview the question was posed to Koehler if he could just lay back now that he was world champion once again. Koehler answered it then with a very loud no. And he answered it again very loudly with the roar of Avenger. Hitting every obstacle multiple times, Avenger caught the biggest air of the night on each one. But it was Khoeler's final cyclone donut that sealed the deal. Whirling so fast that Avenger seemed like a green blur, Khoeler emerged staggeringly dizzy to the loudest roar of all - that of the Monster Spectacular fans!- Doug Denance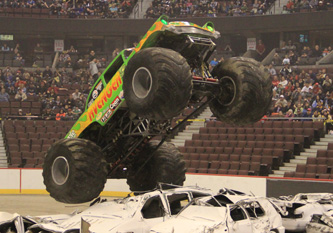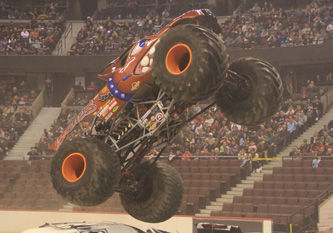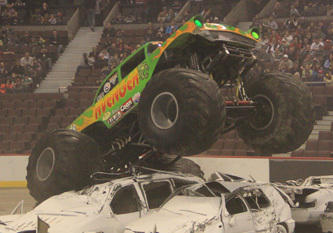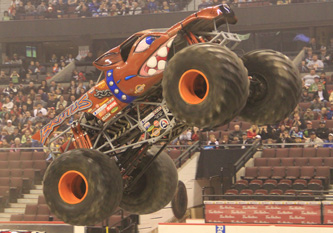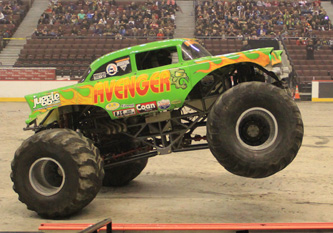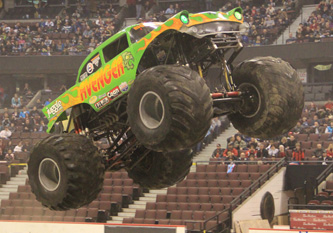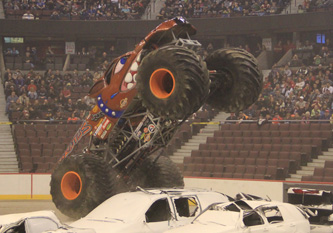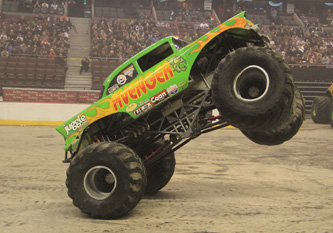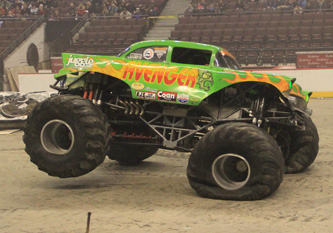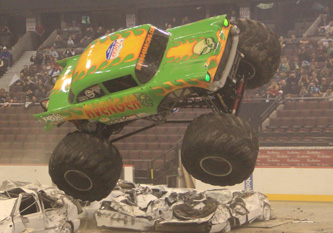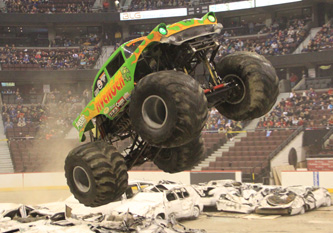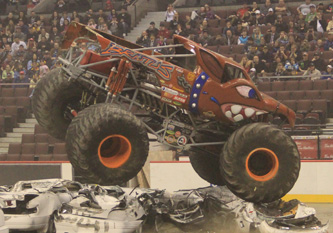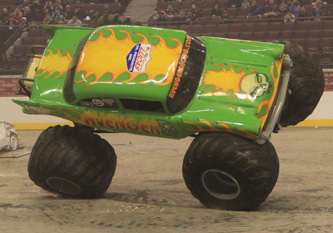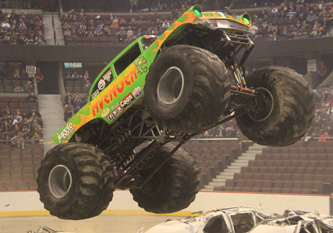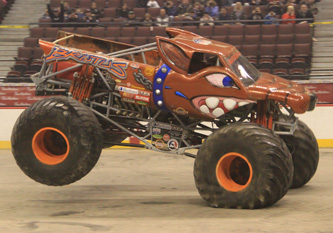 At the end of the night, Brutus' rim was a little damaged...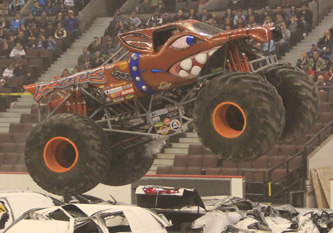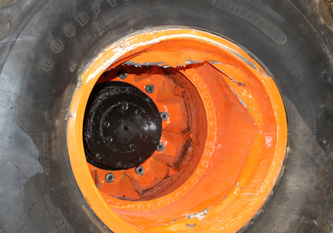 Special Thanks to Johany Jutras for the following pictures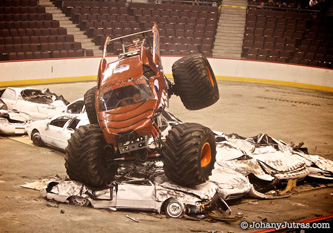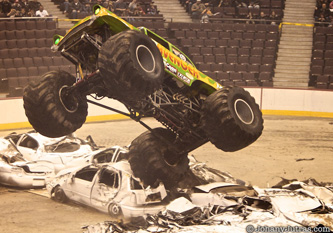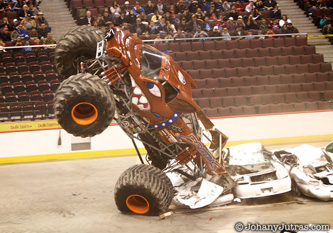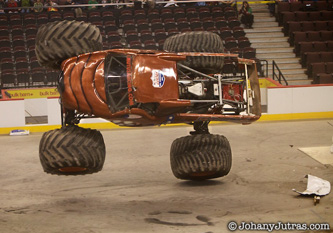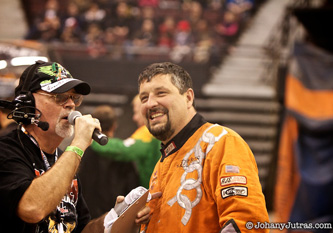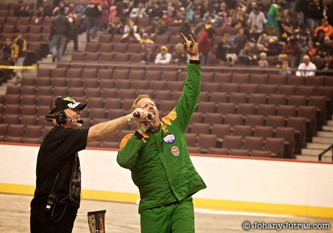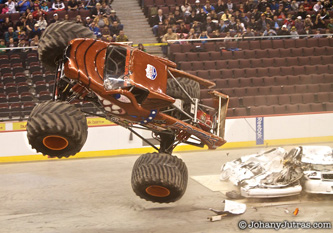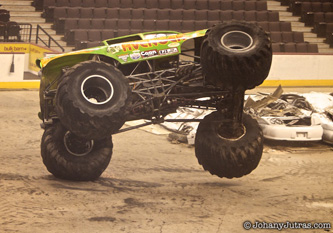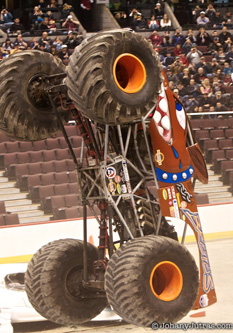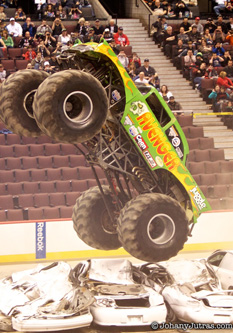 Special Thanks to Heather Swan for the following pictures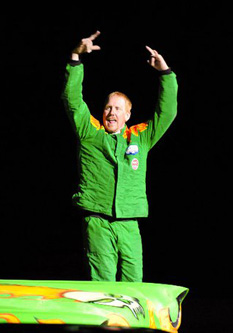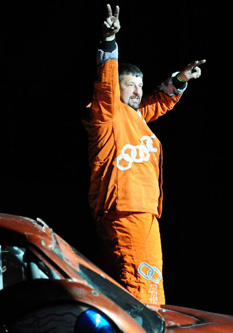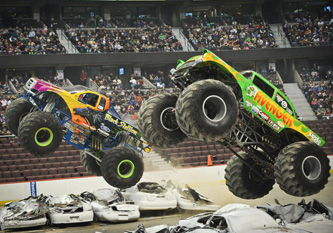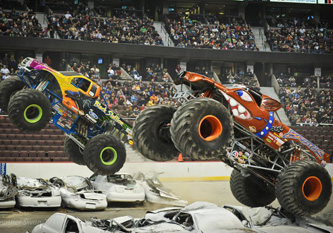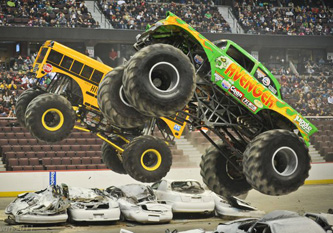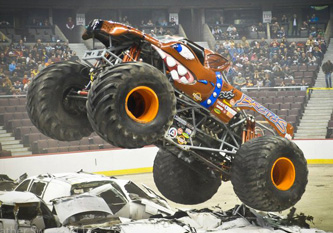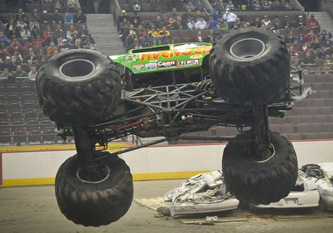 Special Thanks to Tom Cruickshank for the following pictures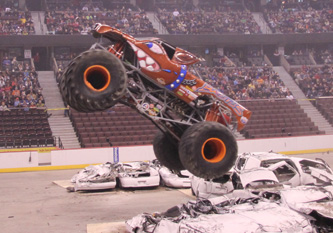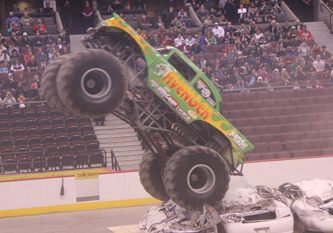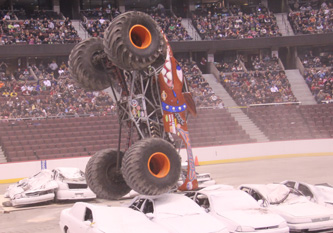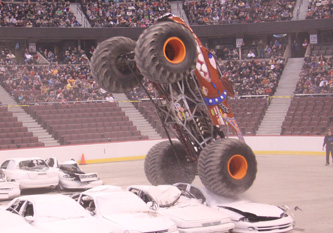 SPECIAL THANKS TO TOM CRUICKSHANK, OUR HELP-CREW/PHOTOGRAPHER OF THE DAY :)
(Photo by Heather Swan)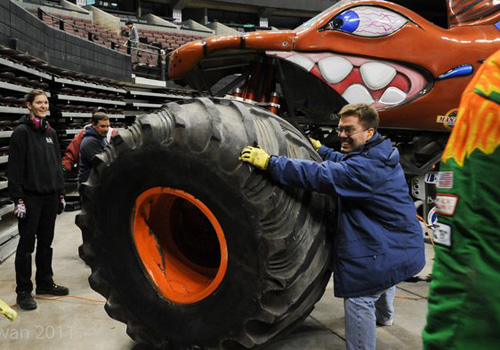 For more pictures:
Monster Spectacular Website
Johany Jutras
Also check our
EXTRAS' page
for some behind the scenes stuff!!!

<! ---links --->
You can also check out these Monster Truck sites for all the latest news
USHRA
,
Monster-Style
,
MichiganMonsterTrucks
,
All Monster
, and
The Monster Blog
And donít forget about the good old Television.
--
SPEED CHANNEL
hosts Monster Jam twice weekly, featuring all the USHRAĎs top stars including Avenger and Brutus.--
--
National Geographic Channelís
THRILL ZONE did a special called Monster Truck Tech a detailed look at monster trucks including interviews with Jim and some of his Crazy Freestyle from the Vermont 4x4 Jamborees.--
--
Spike TVís
Xtreme 4x4 caught a Wicked Crash by the Avenger at the Indy 4x4 Jamboree.--
--
ESPN 2
also had there cameras at the Jamborees.--
SO STAY TUNED AND STAY WILLLLLLDDDDDD!!!!