--- August 27th, 2011 ---
32nd Show of 2011
Monster Truck Show, at the Houghton County Fair Houghton & Hancock, MI
Click here for more info


Special Thanks to
Rosemarie Cook Miller
and
Tina Maki Cook
for the pictures on this page
"After a few years off from monster truck racing, the Houghton County Fair welcomed the Midwest Monster Truck Events group on August 27 for one unforgettable night of monster truck action! 2 Time World Freestyle Champion, Jim Koehler in Avenger, Jon Zimmer driving the Amsoil sponsored Shock Therapy machine, the wild man Chris Bergeron in Brutus, and Kevin Koszala in Excaliber were all in attendance.
The packed house saw Kevin Koszala in Excaliber open the show with 2 fantastic wheelies in the wheelie contest. Brutus also had a great showing with some nice leaps but it was down to Jon Zimmer in the Amsoil Shock Therapy and Jim Koehler in Avenger who stood their trucks vertical over the cars! In a crowd cheer-off, Avenger was declared the wheelie winner!
Qualifying saw all 4 trucks lay down some fast passes on the straight-line drag course to set the racing brackets consisting of Avenger vs Excaliber and Amsoil Shock Therapy vs Brutus. Advancing into the finals would be Koszala in Excaliber and Bergeron in Brutus. In a fast race, it would be Chris Bergeron in Brutus walking away with the win! The crowd voiced their approval for the 3D dog bodied truck from Michigan, Brutus!
Freestyle started strong with a wild wheelie and nearly tipping on his side was Excaliber who also threw down some great donuts, wheelies, and big air. Looking to continue his winning ways was Chris Bergeron in Brutus who wheeled his truck over the vans and down the dirt ramp as the crowd cheered for Brutus!" - Midwest Monster Trucks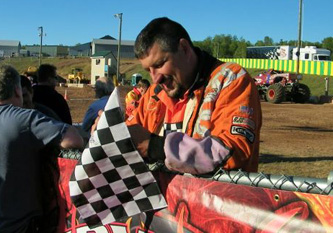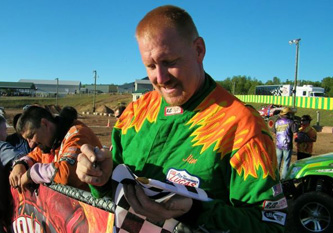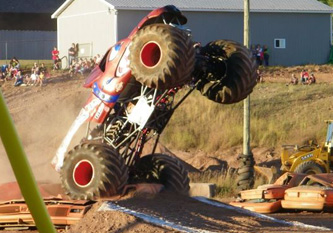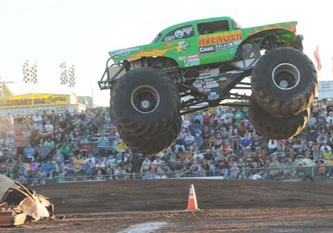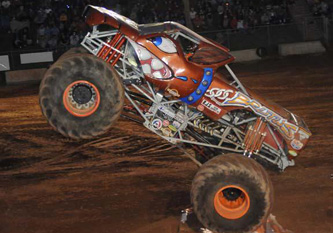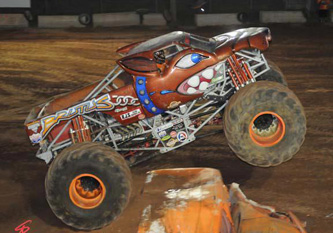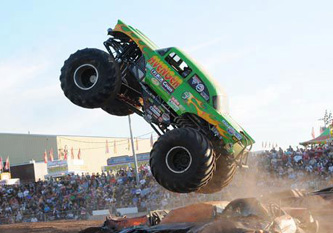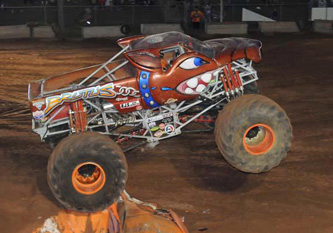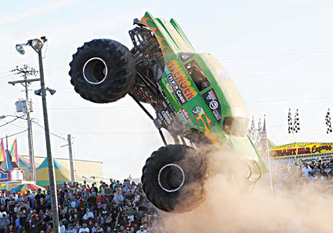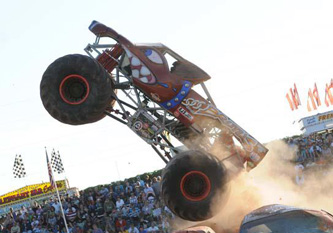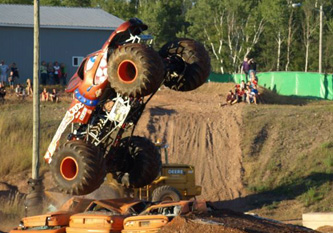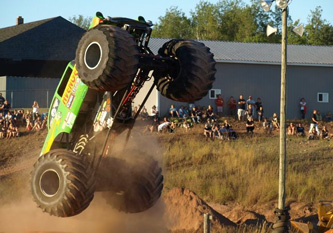 Also check our
EXTRAS' page
for some behind the scenes stuff!!! <! ---links --->
You can also check out these Monster Truck sites for all the latest news
USHRA
,
Monster-Style
,
MichiganMonsterTrucks
,
All Monster
, and
The Monster Blog
And donít forget about the good old Television.
--
SPEED CHANNEL
hosts Monster Jam twice weekly, featuring all the USHRAĎs top stars including Avenger and Brutus.--
--
National Geographic Channelís
THRILL ZONE did a special called Monster Truck Tech a detailed look at monster trucks including interviews with Jim and some of his Crazy Freestyle from the Vermont 4x4 Jamborees.--
--
Spike TVís
Xtreme 4x4 caught a Wicked Crash by the Avenger at the Indy 4x4 Jamboree.--
--
ESPN 2
also had there cameras at the Jamborees.--
SO STAY TUNED AND STAY WILLLLLLDDDDDD!!!!