--- August 11th, 2012 ---



34th Show of 2012
Monster Truck Challenge, at the Lowe's Motor Speedway Charlotte, NC
Click here for more info




Special Thanks to Dustin Hart- Allmonster.com for the following pictures
Click here for the AllMonster.com website!


One word to describe Charlotte last night: Wild! The guys brought all four trucks down for the Back To School Bash and certainly rocked the house. Chris had an awesome photo finish race against Hooked in round 1. Later Jim and Steve faced off and Steve cased the landing ramp, sending Wrecking Crew into a wicked end over end crash. Steve was fine but the truck was done for the night. Jim continued on to a strong racing performance until steering problems ended his chance of getting into the finals. Brad turned in a good freestyle run with Spike, tackling the bus stacks and cutting some wild cyclones. Chris ran Brutus hard with several big leaps, and a wild wheelie he walked down the landing ramp before rolling over attempting a donut. Jim came out firing with Avenger, starting off with an awesome slap wheelie and save. Jim wowed the crowd with an incredible off camber jump over the bus that had the truck sideways in midair but the truck somehow leveled out. Jim's efforts were cut a little short by a rollover but the crowd loved every second of it. - Dustin Hart, AllMonster.com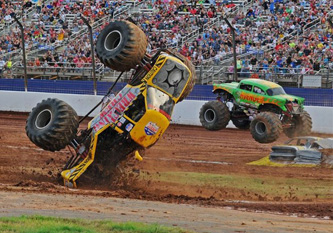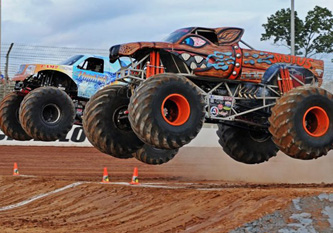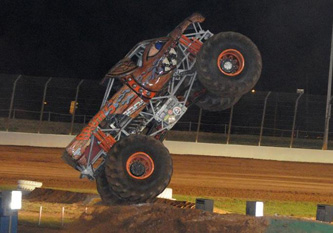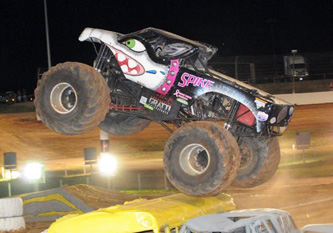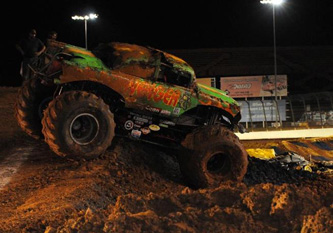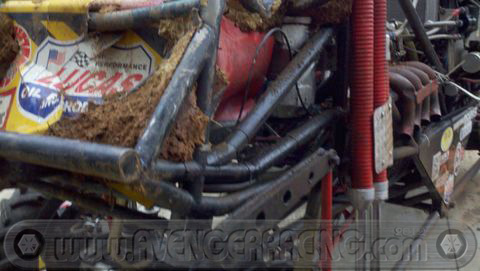 Check out our
NEW WALLPAPERS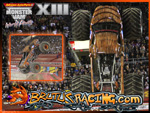 <! ---links --->
You can also check out these Monster Truck sites for all the latest news
USHRA
,
Monster-Style
,
MichiganMonsterTrucks
,
All Monster
, and
The Monster Blog
And donít forget about the good old Television.
--
SPEED CHANNEL
hosts Monster Jam twice weekly, featuring all the USHRAĎs top stars including Avenger and Brutus.--
--
National Geographic Channelís
THRILL ZONE did a special called Monster Truck Tech a detailed look at monster trucks including interviews with Jim and some of his Crazy Freestyle from the Vermont 4x4 Jamborees.--
--
Spike TVís
Xtreme 4x4 caught a Wicked Crash by the Avenger at the Indy 4x4 Jamboree.--
--
ESPN 2
also had there cameras at the Jamborees.--
SO STAY TUNED AND STAY WILLLLLLDDDDDD!!!!