--- October 26-28 & November 2-3, 2012 ---
41-42nd Show of 2012
Monster Trucks 2012 in ARUBA
Click here for more info


Photos: The Return of Monster Trucks in Aruba 2012 - Facebook page
JIM'S RECAP from ARUBA!!! (slighly edited!)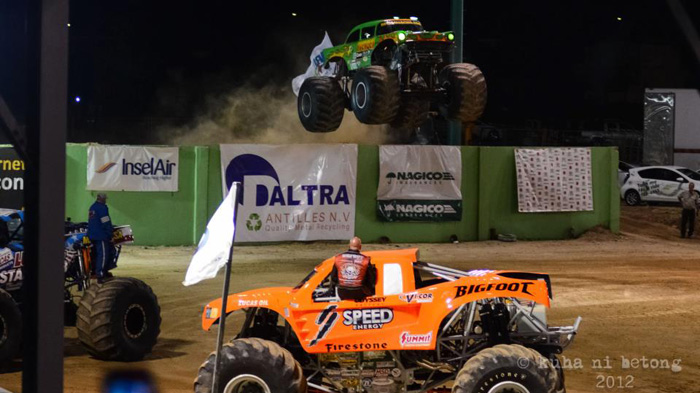 Weekend 1 : Well the first recap from aruba. I got to Aruba on Wednesday night after a long day of travel. I was picked up at the airport by Bobby Holman with Lucas Oil Stabiliser truck. He was kind enough to haul my truck to Aruba for me since I had scheduling problems that kept me from leaving with the trucks. From the airport we went straight to the track to check it out. It was wild: they had an airplane out there to jump, and a huge bus jump. I was tired, so we headed to the hotel. I am rooming with Radical Rodreguss the rodeo clown and Dalton who drives Chalk Board Chuck on Bobby's team. They are great down to earth guys that are fun to hang out with. Thursday morning we went to the track and got avenger tired up and went to display the trucks at a street carnival in St. Nickolas at the other end of the island. It was a lot of fun to see all the different cultures down there. There were a lot of Avenger fans that came to see me! YES! I said Avenger fans in Aruba! They get Speed Channel down here and they love monster trucks. The island is only 20 miles long and 6 miles wide but it has a lot of people. We made it back to our rooms around midnight... long day, very long! On Friday, we got to the track early to set the trucks up for the show. Once we got everything set up we took a couple hours break before the pit party. We had a couple hours pit party with great fans response.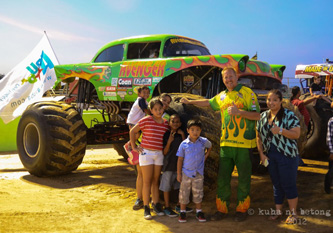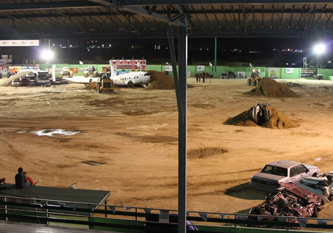 Friday's show intros were set so I jumped the 12 ft wall to enter the ball park. The fans loved it! We started out with the wheelie contest, everyone did great it was a good start for the show. Not sure if they called a winner there is a different language. Racing was good. Avenger beat Chalk Board Chuck, but got beat by Bobby Holman who beat Larry Swim 1st round, so Bobby and Dan Runte went to finals & Bigfoot won. In freestle, everyone did great in my book. Chalk Board had a crazy wheelie save. I was last to go and had a great run. My fuel was off a bit so my power was down a bit but I still rocked it and won freestyle! Another long day. At that point, I still haven't had a chance to see or do anything else but monster stuff.
Saturday started the same to the track early to fix what we broke on Friday... Avenger cut a tire open so I fixed that and did general maintenance. We set trucks for pit party and had another great pit party. In intros I again jumped the wall and 2 sponsors trucks. Again the crowd loved it! Avenger is gettting a huge following. The wheelie contest again everyone did great not sure who won. Racing I got beat by Big Foot but came back as fast loser only to get beat by the other Big Foot! That's ok tho as I again rocked it in freestyle and won that! Everyone else did great! It was an awesome show.
Sunday show was somewhat the same: Jumped the wall in intros and had great wheelies. Lost in semi finals to Big Foot but rocked freestyle to the point that at the end of my run they rolled the red carpet out to my truck and I screamed to the crowd! They loved it and they love Avenger.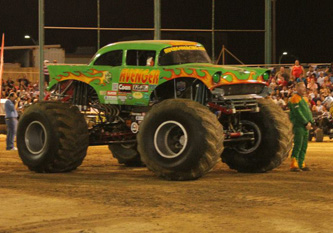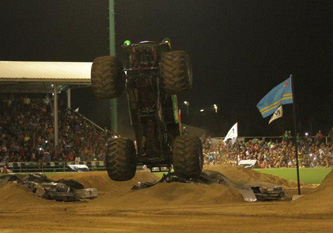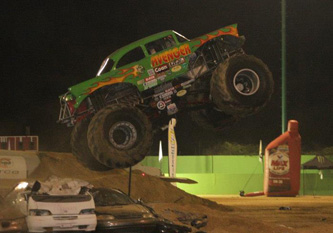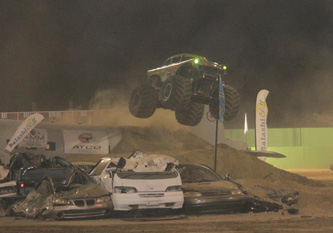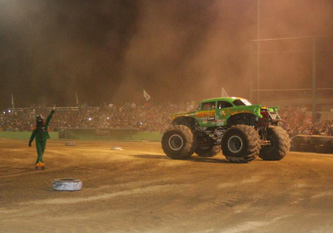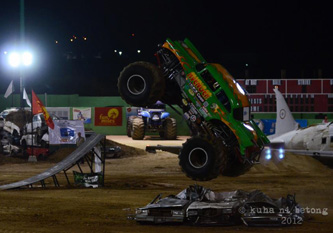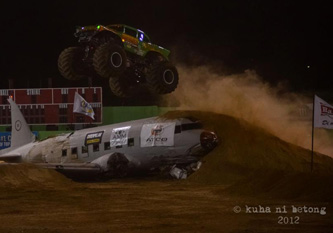 On Monday, I finaly got to see some good parts of this happy island! The Arubians decided to keep us for one more weekend so this Friday and Saturday we will give Aruba 2 more shows. They are changing the whole track to keep it exciting and new! Can't wait to rock it again!
Weekend 2 : Second weekend in Aruba! Lost Internet Friday, and I am in Miami right now, writing this! Friday I got beat first round but won the wheelie contest and rocked it in freestyle, taking the win with a all new track! I also still jumped the 12 ft wall in intros! Saturday was all Avenger! I won the wheelie, beat Bigfoot in final round and dominated freestyle winning the whole show! What a way to wrap up Aruba! It was great and the people there love Avenger! YEEEEEEAAAAAAAAHHHHHHHHHHHHHH !!!!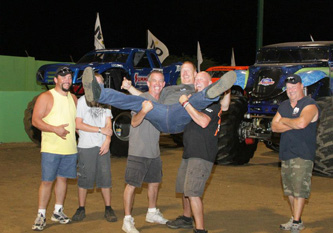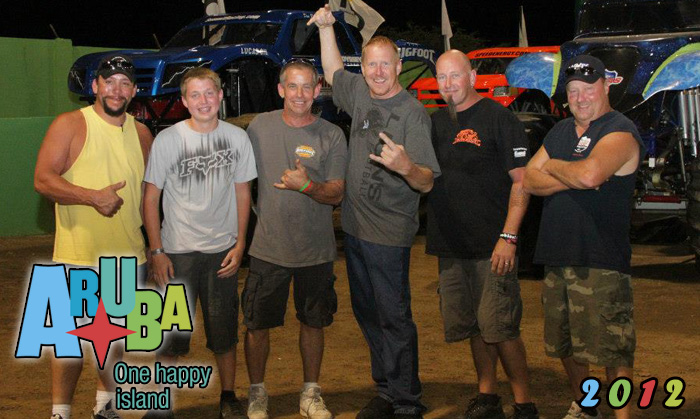 Check out our
NEW WALLPAPERS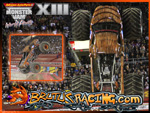 <! ---links --->
You can also check out these Monster Truck sites for all the latest news
USHRA
,
Monster-Style
,
MichiganMonsterTrucks
,
All Monster
, and
The Monster Blog
And donít forget about the good old Television.
--
SPEED CHANNEL
hosts Monster Jam twice weekly, featuring all the USHRAĎs top stars including Avenger and Brutus.--
--
National Geographic Channelís
THRILL ZONE did a special called Monster Truck Tech a detailed look at monster trucks including interviews with Jim and some of his Crazy Freestyle from the Vermont 4x4 Jamborees.--
--
Spike TVís
Xtreme 4x4 caught a Wicked Crash by the Avenger at the Indy 4x4 Jamboree.--
--
ESPN 2
also had there cameras at the Jamborees.--
SO STAY TUNED AND STAY WILLLLLLDDDDDD!!!!