This show is always so much fun and we were super excited to bring all four trucks this year and to debut Monster Truck Throwdown's new truck RAGE!
All four trucks did great. Avenger had an issue in round 1 against Over Bored and didn't finish his pass.
Backflip didn't go exactly like Jim wanted. He was really hoping for a big air flip but the container caved in a bit so he didn't get a good pop off of it. Luckily the truck held together pretty good despite sticking the truck on the nose like he did.
Freestyle turned out to be pretty wild. Brad did amazing in Brutus. He got some ridiculous air and did some awesome sky wheelie hits. Really did a great job but he got robbed by the judges. Cory went nuts and ran for about 4 minutes or so. Big air, smashed one or two of the campers, did a pretty sleep slap wheelie and eventually rolled the truck pretty spectacularly to end the run. Steve came out a bit later in the line up and offered a solid freestyle with some good hits and a nice set of donuts. Jim did his usual thing and went huge. Plenty of big air shots from him. He lost front steering sometime near time being up but he kept going and pulled off a few more jumps and a pretty long cyclone. (Thank you Dustin for the recap !)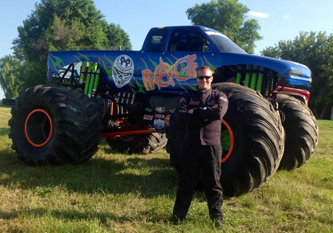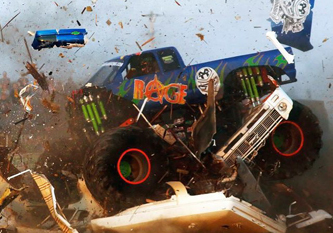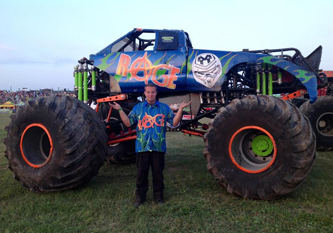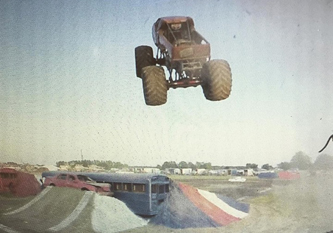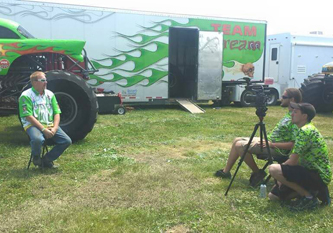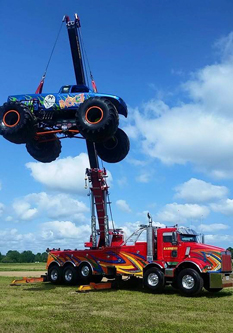 Check out our
VIDEOS PAGE
<! ---links --->
You can also check out these Monster Truck sites for all the latest news
USHRA
,
MichiganMonsterTrucks
,
All Monster
, and
The Monster Blog