Click below to read Scott Douglass's Recap article...
www.MonsterJamOnline.com

Also be sure to check out some awesome pictures by Eric Stern
@
USHRA's Photo Gallery
--- January 13, 2007 ---
Second Show of 2007
Monster Jam at the George Dome in Atlanta, GA.
Our second show of 2007 started out with a display at Beef O Brady's...




When we arrived at the Dome the Monster Jam Track was Wicked Huge...



It was Chicago Style with a big Freestyle Jump and a bus pyramid...



The place was sold out and it was crazy how many people came to the pit party...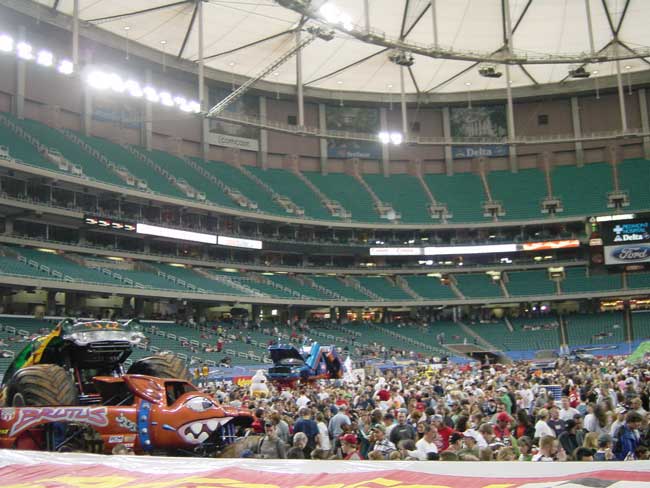 The line up of trucks was...



Max D (Tom Meents)--- Grave Digger (Adam Anderson)




Prowler (Allen Pezo)---Thrasher (Pat Summa)---Gun Slinger (Scott Hartsock)---Cowboy (Steve Reynolds)



Batman (John Seasock)---Blue Thunder (Tony Farrell)---War Wizard (Randy Moore)--- Annihilator (Greg Adams)



The Sold Out Crowd was the loudest I've ever heard especially at the end when they did a cheer of between Max D and Digger. The show was wild both Avenger and Brutus held strong through racing. Freestyle was a different story..




Both trucks had some awesome hits and were getting huge air. But that red Georgia clay was just to tacky. Both trucks plus Blue Thunder put it over trying to do a donut...



Both Adam and Tom pushed there trucks past there limit... Driving them till the four bars were bent and the shocks were felling off, and still kept going...



They did some major damage and really rocked the house...
Click Here For Current News

Click Here For Last Years News <! ---links --->

You can also check out these Monster Truck sites for all the latest news USHRA, Monster-Style, MichiganMonsterTrucks, All Monster, and The Monster Blog

And donít forget about the good old Television.
--SPEED CHANNEL hosts Monster Jam twice weekly, featuring all the USHRAĎs top stars including Avenger and Brutus.--
--National Geographic Channelís THRILL ZONE did a special called Monster Truck Tech a detailed look at monster trucks including interviews with Jim and some of his Crazy Freestyle from the Vermont 4x4 Jamborees.--
--Spike TVís Xtreme 4x4 caught a Wicked Crash by the Avenger at the Indy 4x4 Jamboree.--
-- ESPN 2 also had there cameras at the Jamborees.--

SO STAY TUNED AND STAY WILLLLLLDDDDDD!!!!