DRIVER: Jim Koehler
BODY: Avenger is a 1957 Chevy Bel Air
CHASSIS: Custom built by Avenger Racing & Cory Rummell in 2017
ENGINE: Blown 575 Chevrolet Big Block
HORSEPOWER: 1,800
HEIGHT: 12 feet wide, 10 feet tall
WEIGHT: 9,500 pounds
TIRES: 66 Inch GoodYear 6 Ply Terra Tire / 66 Inch BKT tires
SHOCKS: Nitrogen Charged Stage 2, Front 26″ and Rears 26″
TRANSMISSION: Coan/Bewick Turbo 400 transmission
TRANSFER CASE: Profab Quick Change
WHEELBASE: 138″
WHEELS: Allen Pezo racing wheels
AXLES: Custom fabrication Rockwell F-106s
2003 AND 2011 MONSTER JAM WORLD FREESTYLE CHAMPION!!!!!


2009-2010 AUSTRALIAN FREESTYLE CHAMPION!!!!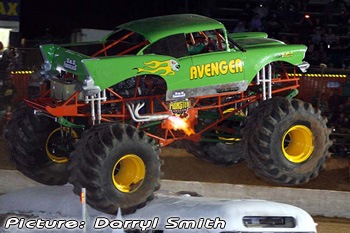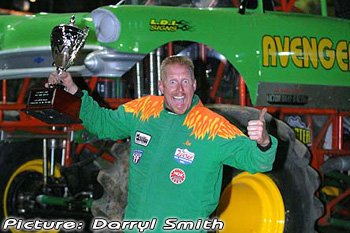 Avenger's history
1996: Jim's dream came true when he finished building the Avenger. The truck was based on a Chevy S-10
1997: He started to compete
1999: Jim and Avenger voted "Fan favorite", which took them to the USHRA first ever World Finals.
2002: Jim felt it was time for a change. He wanted something different. A 1957 Chevy Belair body would replace the standard pickup for Avenger. The fans feed back was awesome; they love the hot rod monster truck.
2003: Avenger's popularity and Jim's career would hit an all time high after winning the World Freestyle Championship.
Since 1999: The Avenger has competed in every World Finals. (Avenger is the only truck on the circuit that participated to every World Finals driven by the same driver)
2008: Jim unveiled a brand new chassis for Avenger.
2009: Avenger is launched in Australia at The South Pacific World Finals with Jim in the driver seat. He won the Freestyle Champion title!
2010: Avenger win once again the Australian Freestyle World Championship!
2011: AVENGER IS ONCE AGAIN THE MONSTER JAM WORLD FREESTYLE CHAMPION!!! He is the only driver, besides Meents, to have won the World Finals Freestyle Competition more than once!
2016: Avenger is part of the Fox sports 1 Series.
2017: 2017 marked Avenger 20th anniversary ! For the occasion, Jim brought back the S-10 body with a brand new paint job! In 2017, the truck competed in the FS1 East Series.
2017: Jim debuted a brand new chassis at the World Finals and ended up in third position in freestyle AND racing. What an epic World Finals!
See Avenger's page on Monster Jam's website.
Watch this amazing tribute to Jim & Avenger in this Monster Truck Throwdown video

2017 Las Vegas World Finals 20th Anniversary Avenger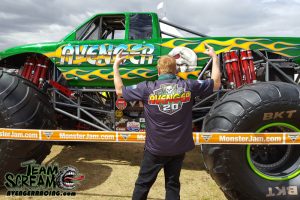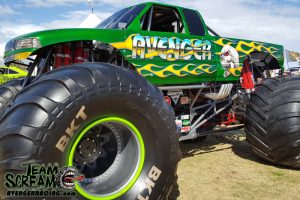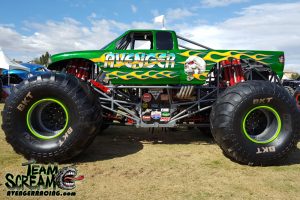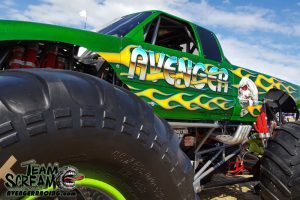 2017 – 20th Anniversary Avenger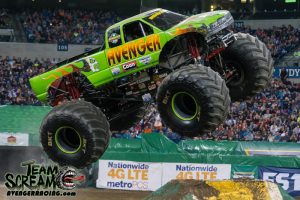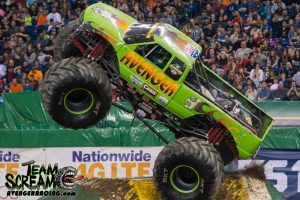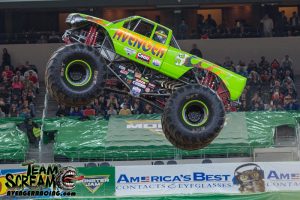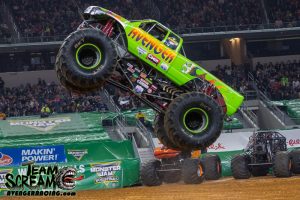 2016 Las Vegas World Finals Avenger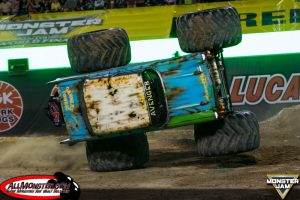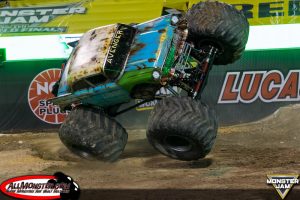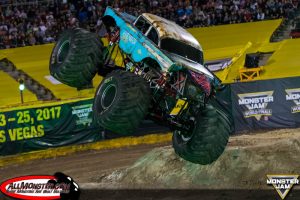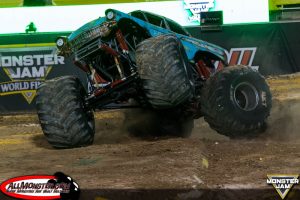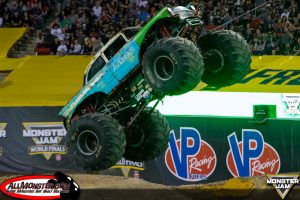 2015 Las Vegas World Finals Avenger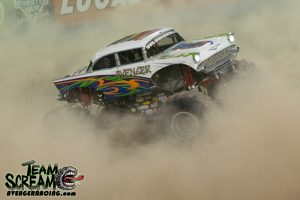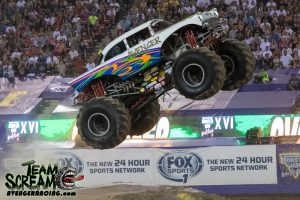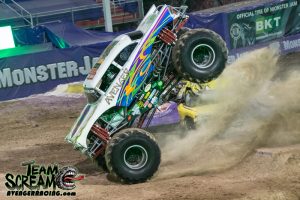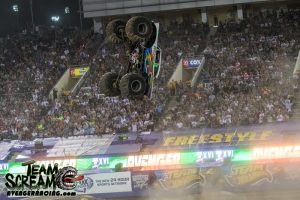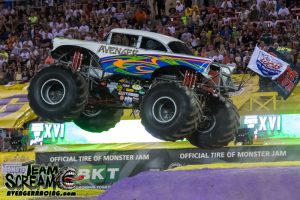 2014 Las Vegas World Finals Avenger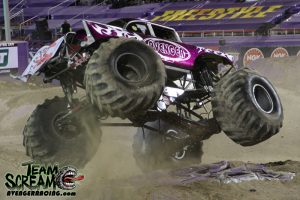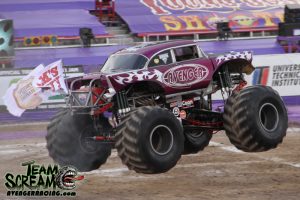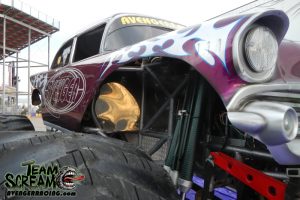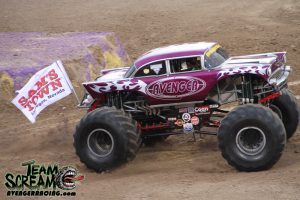 2013 Las Vegas World Finals Avenger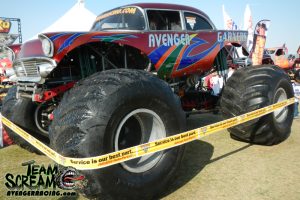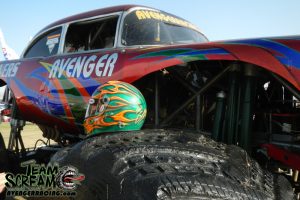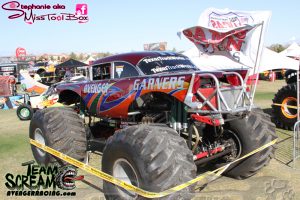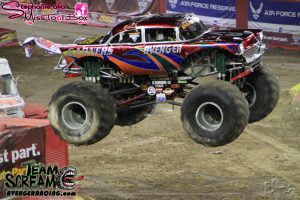 Yellow & Red Avenger (Vegas 2012)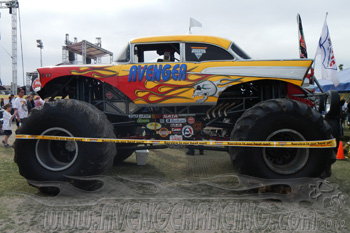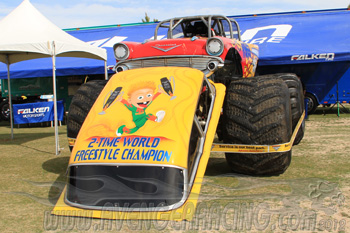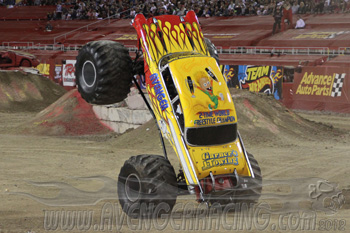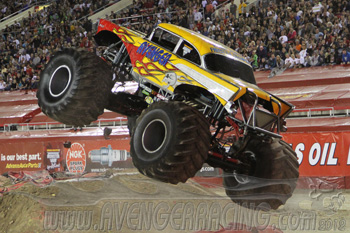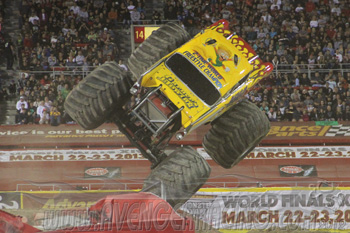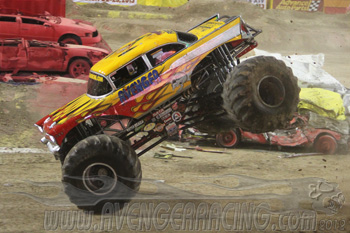 Red Avenger (Vegas 2011)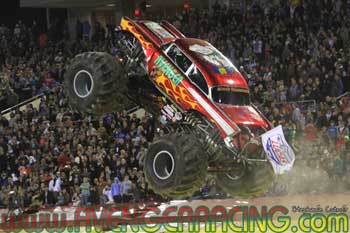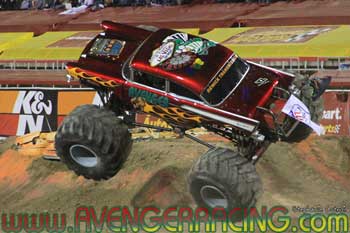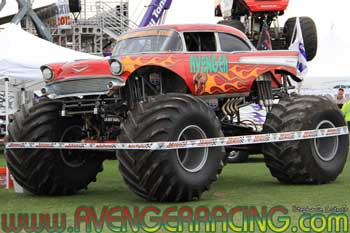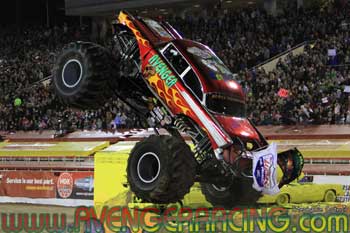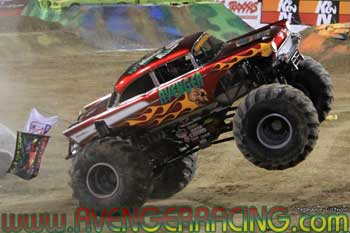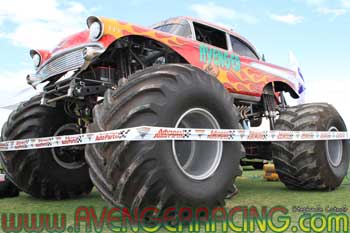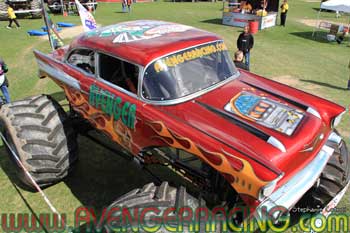 Avenger new paint Job (2011)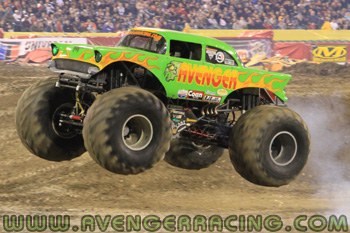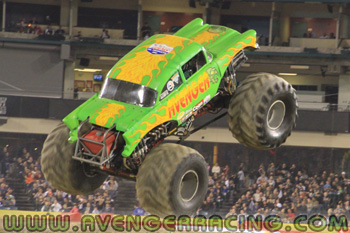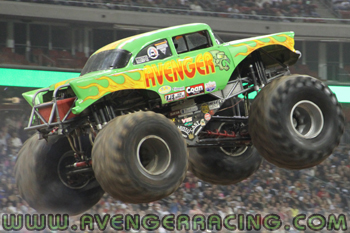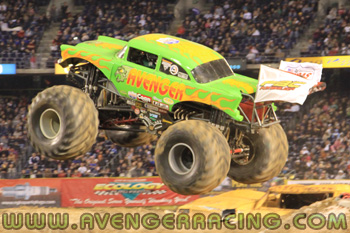 Flat Black "Hot Rod" Avenger (Vegas 2010)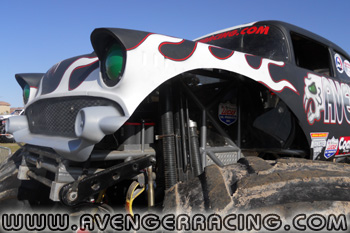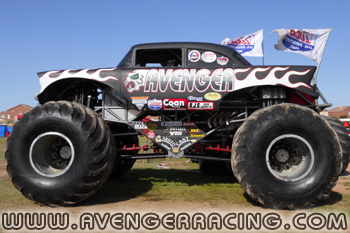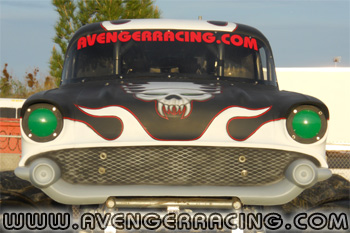 The "Aussie" Avenger launched in Australia in November 2009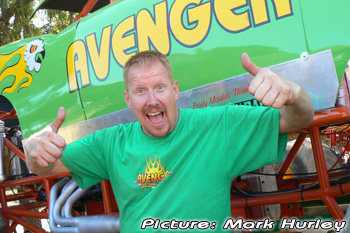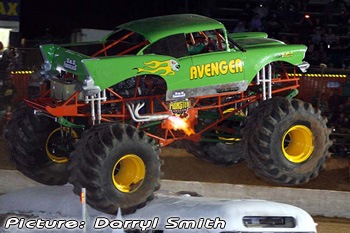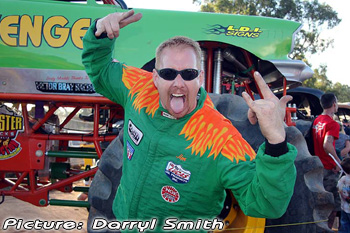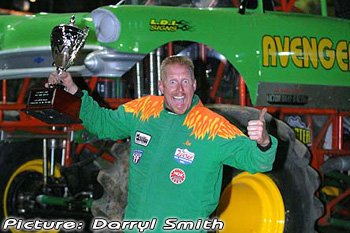 Blue Avenger (Vegas 2009)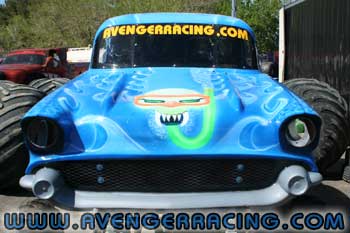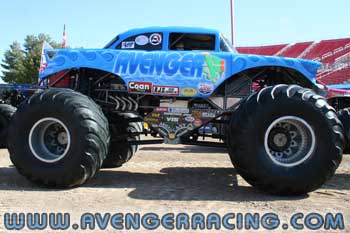 Avenger's New chassis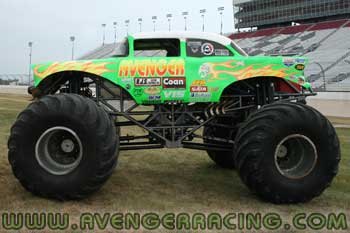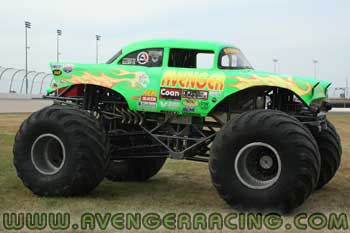 Toxic Green (Actual color)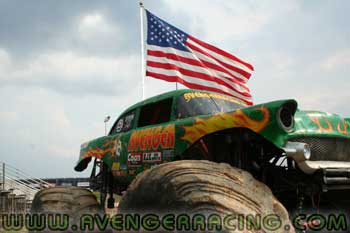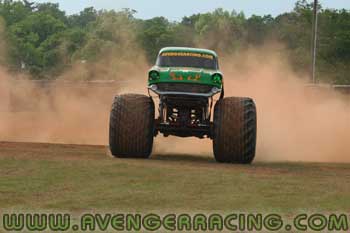 Dark Green (Previous color)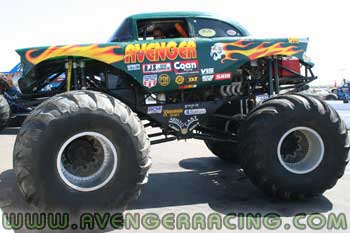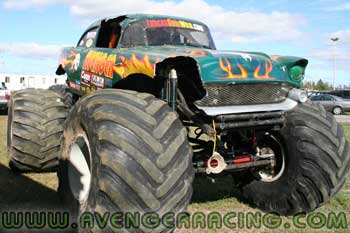 Neon Green (Vegas 2008 color)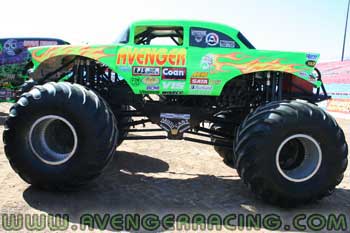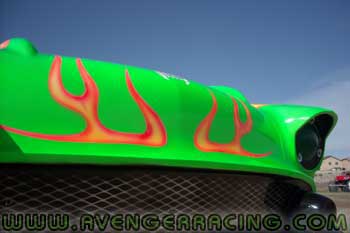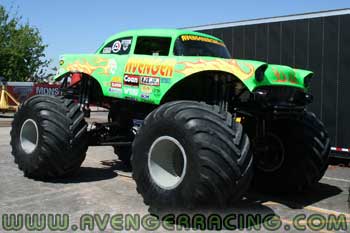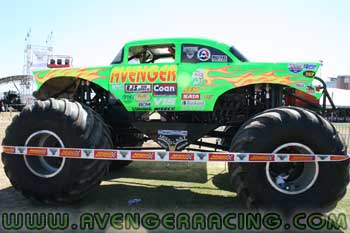 Toxic Green (Vegas 2007 color)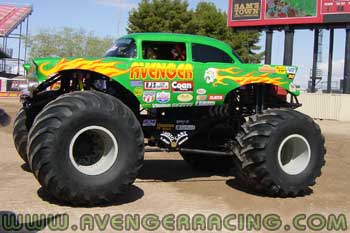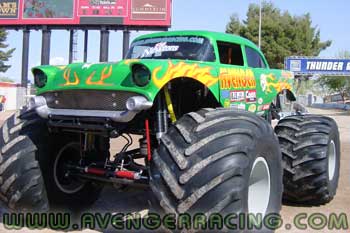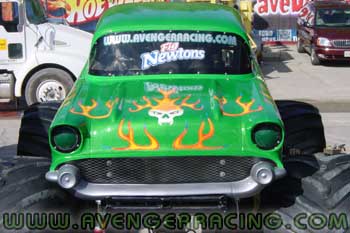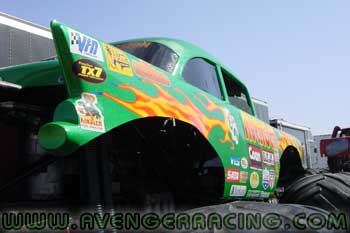 Chrome Avenger (Vegas 2006 color)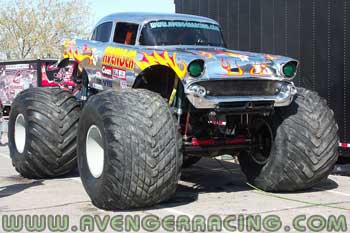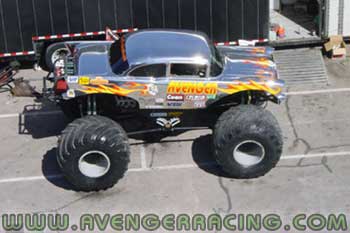 Orange-Green Avenger (Vegas 2005 color)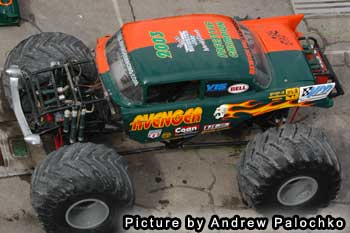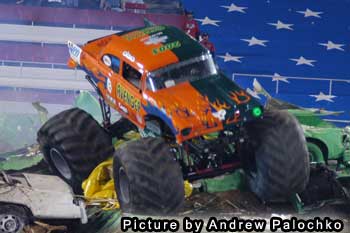 Orange Avenger (Vegas 2004 color)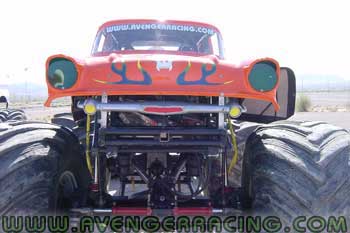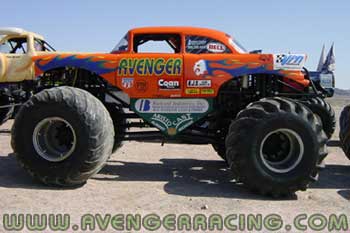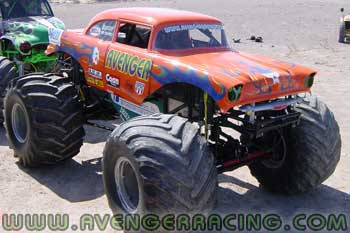 The old Avenger (S-10)