WHAT A NIGHT IN ANAHEIM !!!!  Check out Jim's recap after another freestyle win !
All about Anaheim
Well what can I say, it was an awesome week here in Anaheim. We left San Diego after the show last weekend to come back to Anaheim and fix both trucks here. Anaheim just has a bigger pit area and close to a lot of high performance shops. Like Bryant Racing, Good Vibrations, Manton racing products, and best of all Lucas Oil.
So the week was long fixing the trucks to prep for this show. All the teams were working hard and helping each other out. Brad Allen helped Jimmy from Ice Cream Man's team rebuild the roll cage after a wicked roll and save by Roy. Once trucks were all set, we had practice on Friday which is just intro practice and a race pass just to make sure trucks are 100% ready for Saturday night show. My truck was all good so we parked it in pit party but Brad's dog wasn't right so we super tuned it and he was all set. Other trucks needed work too. Big Kahuna had to get his body back on, so did Ice Cream Man. Some people worked on steering as well. By Saturday morning, all trucks were set in pit party and ready for show.
SHOW TIME!
The pit party here in Anaheim was awesome as usual. Great weather and great fans make for a great day. They really got me fired up for the show. It was show time I had Roy with Ice Cream Man first round. I knew it would be a good race, and Roy got me by very small margin. "Good race Roy, but you did have the good lane! " – No excuses he got me!  Unfortunately for Brad, he broke his transmission while racing Jester, but since Jester blew his motor, neither advanced and it gave Todd Leduc a chance to rejoin the race bracket. But Neil in Max D wasn't having that. It was a Max D vs Grave Digger final and Digger would come out on top. Neil did win the two wheel challenge tho.
Two wheel competition was next. I tried to do a popper, but it didn't work the best but I am trying these new stunts… I'll get them some day! For my second hit, I did a sky wheelie. It was awesome: those I know how to do!
Then came freestyle!!! I started big and just kept going ending with back flip and scoring good! The score held and I won the show!  There were a lot of great runs, so I was glad my score held. Anaheim is a great place to be. Fans are some of the best in the world.
GREAT NIGHT ALL AROUND! ANOTHER SHOW IN BOOKS! THANK ANAHEIM LOVE YOU GUYS!!!
Ok we'll be on our way to Glendale AZ. Hope they are ready for us .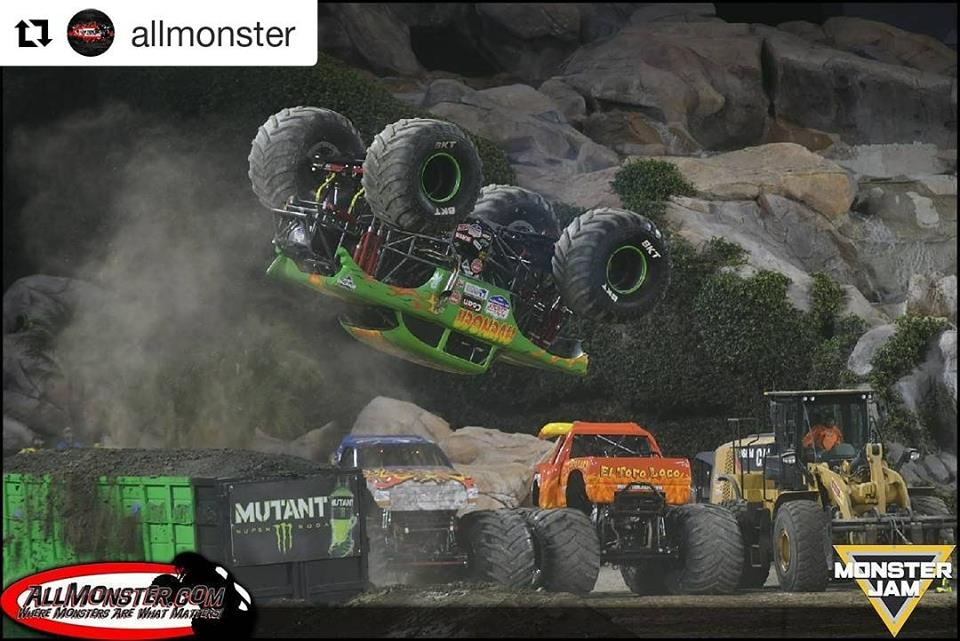 Make sure to sign up to our NEWSLETTER! YOU COULD WIN A FREE TEAM SCREAM SHIRT!!!!